Offshore Service Vessels Design Innovation
By Maritime Reporter & Engineering News
It could be argued that no other sector of the maritime market has experienced a design innovation revolution quite like the Offshore Service Vessel (OSV) market. Driven by demands to supply people, gear and goods to offshore installations that are increasingly further from shore in deeper waters, today's OSV is a far cry from those built only a decade ago. Maritime Reporter examines some of the recent innovations in design and function.

Deepwater operations are increasingly demanding more personnel offshore, often for longer periods of time, placing a greater emphasis on crew accommodation. Now accommodation and special features join safety as the key components for a new range of comfortable, large-scale offshore housing vessels.
Emerging in this range is Hornbeck Offshore Services' HOS Achiever, a ship perceived as relatively normal offshore multipurpose vessel. What's unique about HOS Achiever, though, is what she accomplishes. In order to provide top-of-the-line offshore housing, Hornbeck has essentially converted the HOS Achiever into a floating hotel (flotel) with total accommodation for the berthing of 267 persons by way of 93 air-conditioned and heated staterooms. Also chief are the ship's amenities: HOS Achiever houses a coffee and tea room, diner, exercise room, galley, internet café and quiet room, laundry room, locker/wash room, recreation room, smoker's lounge, sick bay and deck changing room. And with DP-3 positioning, a motion-compensated gangway, helideck, helicopter refueling capabilities and a 160-metric-ton crane, HOS Achiever' safety and comfort are notably matched by functionality.
Originally conceived as a dive support and construction vessel, the HOS Achiever has lived up to its designation as a multipurpose support vessel. Since its launch in 2008, the HOS Achiever has supported a diverse range of offshore activities such as platform inspection, repair and maintenance activity, well intervention projects including decommissioning and riserless intervention – periodically serving as a flotel for major projects throughout.

But HOS Achiever's capacity for accommodation has made her especially attractive to customers requiring flotel support, particularly for offshore construction and wind farm operations. Hornbeck recently won a contract to support the hookup and commissioning of an extended tension leg platform production facility in the ultra-deepwater Gulf of Mexico, a project that requires hundreds of offshore workers to transfer repeatedly between the worksite and dynamically positioned vessel over an extended period of time.
HOS Achiever's conversion was completed in January 2014, and the vessel was delivered to HOS Port, the company's shore-based facility in Port Fourchon, Louisiana.
Rolls-Royce has won an order to provide an integrated design and equipment package for two offshore supply vessels to be built at COSCO (Guangdong) Shipyard Co., Ltd. in China for Singapore based Chellsea Group. The order represents the exercise of an option for another two vessels contained in an initial contract for two vessels with the same yard and owner announced in October last year. All four vessels will be added to the fleet of two UT-vessels operated by Chellsea.
The two Rolls-Royce UT 771 WP platform supply vessels feature the wave piercing bow designed to cut through waves in rough seas, making it possible to keep a more constant speed, reduce fuel consumption and increase on board safety.
The delivery from Rolls-Royce will comprise ship design and an extensive integrated systems package including MTU-engines, a propulsion system, a power electrical system, a bulk handling system, deck machinery, an automation and control system as well as a dynamic positioning system that uses satellite technology to automatically maintain the vessels' position without anchoring.

Power Play
Long reserved for specialized applications such as icebreakers, diesel electric has enjoyed a rapid growth for marine propulsion in the past decade, and Cummins Marine has been a leader, supplying over 900 diesel electric packages since delivering its first genset 2003. Early adopters of this flexible propulsion technology included the Rigdon Marine with twenty vessels and France-based Bourbon Offshore with more than 100 vessels.
In late 2011 Aries Marine built two STX-designed Tiger Shark Class PSVs. After nine months operating in Mexico, one of their vessel engineers, Darrell Bickham, enthused over the performance. "We only put enough engines on line as we need for the job. We can stand by the rig outside the 500-meter zone on one of our four Cummins QSK60-powered generators. Traveling we can make 10 knots with only two operating at 50 to 60 percent of their rated power."
Captain Philip Munsch added, "If we get into weather we can bring on three or even four engines as required. But they are always running at a steady 1800 RPM with no revving up and down so crew comfort and safety is improved because of the reduced fatigue."
The fuel economy made possible by using only the number of engines required to do the job at hand is pleasing to both owners and charterers. The flexibility in engine placement afforded by the absence of a long drive shaft between the generators and propulsion motors allows for engine placement on the main deck resulting in increased cargo capacity in the vessel's hull.

There is virtually no downtime as engine servicing can be done with one or more engines off line. Modern electronic systems have made diesel electric generator sets reliable and easily managed. It is, then, little wonder that this form of powering the modern offshore fleet is gaining even more followers.
Brazil's Bravante Group in late February took delivery of the M/V Bravante VI, their second in a five vessel series of diesel-electric PSVs, from Eastern Shipbuilding. Bravante V delivered in 2013 is already on charter in Brazilian waters.
Designed by STX and designated the STX SV290 design the 86.5-m (284-ft.) by 18.3-m (60-ft.) by 7.5-m (24-ft.) vessels are built around four Cummins-powered generators. Each 16-cylinder Cummins QSK60-DM engine rated for 1825 kW at 1800 rpm powers a Marathon Model 744 690VAC generator also supplied by Cummins.

A pair of 690VAC electric motors each turning nozzled fixed-pitch propellers on Schottel Combi-Drives provides main propulsion.
These two propulsion motors are each rated at 2,500 kW at 750 RPM to give a total of 6700 HP. Two Schottel 1180 kW tunnel thrusters with direct coupled electric drives also draw their power from the four main Cummins QSK60-powered generators.
The flexibility of the diesel electric system in providing power to both ends of the vessel as well as to a wide array of cargo pumps and general ship requirements continues to attract owners' attention and orders.

Innovative propulsion technology is also evident on a series of PSVs being built in Japan. Modular liquid-cooled drives and PLCs from ABB have been included in VARD ELECTRO's application-specific propulsion and thruster power solutions for offshore supply vessels. The electric motor propulsion technology designed by VARD ELECTRO is used on a series of six platform-supply vessels (PSVs) - the first two of which currently are being built in Japan.

Twenty years ago, in response to growing global competition and demands for ever-more sophisticated propulsion performance, the innovative shipbuilding group VARD decided to bring its systems integration function in-house. VARD established a fully owned daughter company, VARD ELECTRO, specializing in system integration and development and providing tailor-made marine electronics solutions for offshore specialized vessels.

VARD ELECTRO looked for a drives and control supplier that could provide a highly configurable drives platform, and chose drives from ABB's ACS800 range, with control provided by ABB's AC500 PLCs.
For each vessel of the six PSVs which are being built in Japan, ABB is supplying five PLC-controlled variable-speed drives to control a total of over 6MW of power: two 2MW drive systems for the main engines, two 730kW drives for bowthrusters, and one 730kW drive for a dual-fed bowthruster that is able to survive the failure of either of the vessel's two power generators. The ABB drives and controller system are now part of VARD ELECTRO's new SeaQ Power intelligent power systems range, which was created during the past year.
Before delivering the new electric power propulsion control system, VARD ELECTRO performed detailed testing on the PLC and drive combinations at its test facility in Søvik, Norway. These trials were also witnessed by VARD ELECTRO's Japanese shipyard customer. The integrated control system passed all of its tests and VARD ELECTRO now has shipped the propulsion systems for the first two vessels.

The very first vessel with this technology will be launched in mid 2014, and will be destined for use in platform supply applications.
Incat Crowther said that Veecraft Marine delivered a pair of 20m Monohull Crewboats and signed a contract to build a 30m Wave Piercing Catamaran Crew Boat. Hot on the heels of delivering Magen Defender and Masud Defender, the South African yard commenced construction of a 30m Wave Piercing Catamaran Crew Boat for Africa Diving Service Ltd. of Nigeria.

The 20m Monohull Crewboats feature a large cargo deck forward, with a pair of doors from the passenger compartment allowing bow loading either side of the foredeck cargo. The main deck passenger cabin features seating for 25 passengers and a head with lavatory. Under the raised pilothouse are bins for passengers' luggage.
A notable requirement for the vessels is their bulletproof pilothouse. As well as fitting bulletproof glass, they are plated with Armox 500T steel, capable of withstanding an AK-47 cartridge fired at a distance of 10m.
The pilothouse features overhead windows forward to enhance visibility when approaching offshore platforms. Heavy duty replaceable fendering is fitted all round, and a 3,000 l/hr remote control fire monitor is fitted to the pilothouse roof.
The vessels are each fitted with a pair of MAN 2842 LE410 main engines, each producing 824kW. Propulsion is via a pair of propellers, recessed in to tunnels to meet the demanding draft requirement.


(As published in the April 2014 edition of Maritime Reporter & Engineering News - http://magazines.marinelink.com/Magazines/MaritimeReporter)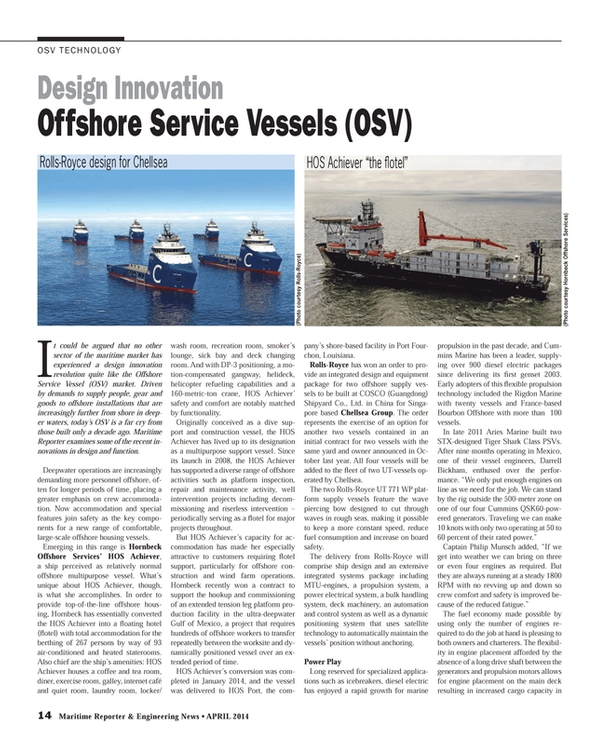 Read Offshore Service Vessels Design Innovation in Pdf, Flash or Html5 edition of April 2014 Maritime Reporter
Other stories from April 2014 issue
Content