Five Minutes With Tomas Tillberg
By Greg Trauthwein
Modern cruise ships can cost upwards of a billion and built to last more than 25 years, so the platforms must be built for change, as evolving style & taste, material innovation & maritime regulation dictate. "Built to stand the test of time" is the mantra, so in seeking insight on modern cruise design we sought insights from a designer that also has stood the test of time, Tomas Tillberg of Tillberg Design International.

Mr. Tillberg, as a long-tenured and well-respected member of the Cruise Ship design community, put in perspective the overriding design trends that you have seen in cruise ships over the last decade?

There are more diverse and better defined cruise ship designs today than 10 years ago and there is more attention to intimacy, variety, options and multiple functions in the designs than ever before.
One reason is that there are more cruise lines catering to better and better defined segments of the cruise market, which means the designs have to be more conscious of the different brands and how they are marketed, a wonderful challenge for us as a design firm.
The itineraries are also more diverse than before and present interesting choices for the passenger that were non-existent 10 years ago. As one of the factors considered when designing the interiors of a cruise ship is the itinerary this too presents new and exciting challenges for us.
Cruise lines have always been looking for new potential revenue sources. The retail areas have been an important one of those and have developed considerably during the last 10 years as have casinos and food venues. There are more restaurants with different food choices than ever before. The designs have to reflect this, so today we design Asian food venues as well as the very best French or a casual Italian "Eataly" or even a fully authentic Moorish Café.
There is a trend to introduce what you can find on land also on the ship such as the Central Park on the RCCL ships or different amusements or sports activities. Also the ship can actually be a destination today rather than a means of travel. Today families with children of all ages are an important part of the guests of many cruise lines and large areas on ships are devoted to these different age groups.
Technology has moved forward at a rapid rate and today we see wireless communication as a natural part of the experience on a cruise. This means that areas such as the business center tend to diminish in importance as the guests are able to use their laptops, iPads or phones for emails, Skype etc. anywhere on the ship.
To summarize, the trend is towards more of a boutique hotel atmosphere and residential feeling, multiple choices in itineraries, level of comfort and luxury, food and entertainment and basically more bang for the buck!

What, today, do you see as the defining design trends?

The design is more understated, contemporary and timeless. Our challenge is to take the design to the next level, thinking ahead of current design trends.

What are the hot trends today in regards to interior design, as far as accommodation, public and entertainment spaces?

In accommodations, cabins are larger, closer to hotel accommodations with improved bedding (mattresses are important). The design of the bathrooms has improved. In public spaces it's more about diversity; smaller areas and more choices. Regarding entertainment spaces, the level of entertainment has increased, sometimes to Broadway quality and the designs of the entertainment venues have to be equally creative.

Can you provide an overview of the projects that you are currently involved?

We are working for all the major cruise lines on newbuilding, revitalization and refit projects and are currently designing cabins and public areas as well as crew areas.

Technology is a recurring theme in our pages: what technologies, or evolution of technologies, has in your opinion had the most dramatic impact on the design of cruise ships, and why?

The fast development of wireless technology has meant a re-thinking of the designs of several types of areas. The constant development of new materials also impacts our designs. An example of this is the Trevira CS fiber. It is inherently inflammable and the diversity of textiles manufactured today with this fiber is astonishing.

You are involved in an industry which designs assets that are expected to remain functional and attractive for decades, while serving an ever-evolving consumer base. What is the secret, in your estimation, to your (or anyone's) long term success?

To have an active interest in our clients, to be open and receptive and understand the specific brand identity. There is also a familiarity with what is desired that comes from experience. A sense of practicality in choosing materials and designs that will last is also necessary as well as having an understanding for the economy and the cost of the designs.

Personally, professionally, what do you count as the greatest influences to your ship design style, and why?
We ultimately design for the passenger, which means that we have to be very attentive and understand really well who our client is planning to market the ship to. It makes each project an exciting challenge in its own right. Experience is of course an important part of design, the lessons learned help us stay real and meet budgetary expectations for example, but there is actually not so much influence from the past, it's happening right now and with each ongoing project. Our goal is to stay ahead of the game and to design for tomorrow.

If you had to pick one cruise ship of all time that is your hands-down favorite, which ship is it and why?

The next one!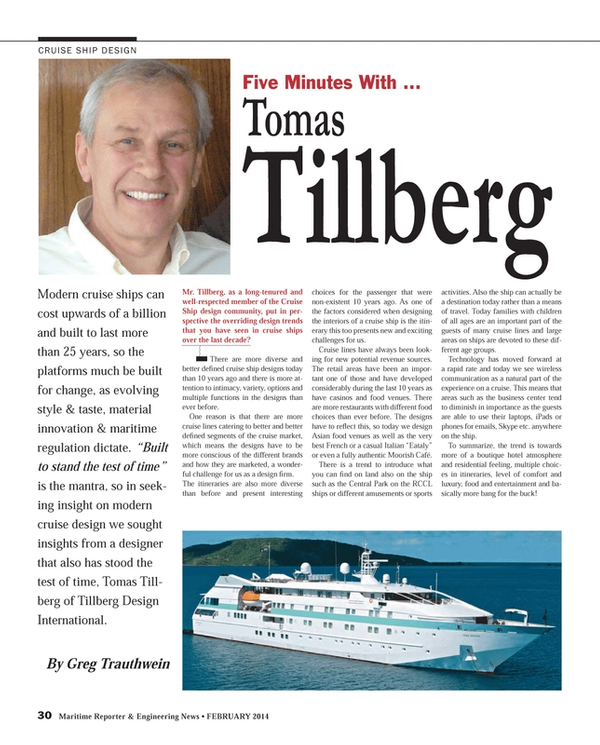 Read Five Minutes With Tomas Tillberg in Pdf, Flash or Html5 edition of February 2014 Maritime Reporter
Other stories from February 2014 issue
Content