Fincantieri Italian Flair Continues to Dominate Cruise Sector
By Matteo Bianchi, Italy
In the cruise ship sector, the Fincantieri name is no stranger, having since the early 1900s built some of the most appreciated liners, including the legendary transatlantic Rex, built in Genoa, winner of the Blue Riband in 1933. Nowadays, cruise remains its core and Fincantieri is famous for its gigantic cruise ships; in 2013 the company delivering three. But it has diversified in recent years to ensure its future.

Recent studies calculate that the European shipbuilding industry can count approximately on the 7% of new global orders; a demand volume insufficient to saturate the production capacity. This is accompanied by a collapse in the price of new constructions, a collapse which is of course highly dependent on ship type, but generally agreed to be 35 to 45% less than the peak of 2007. At the same time, according to a governmental report, South Korea's shipbuilders almost halved their production last year (compared to the year before).

Despite that, in a country which has been particularly hard hit by the economic downturn, there is a shipbuilder that resists and, not without difficulties, even tries to expand: Fincantieri.

Fincantieri - Cantieri Navali Italiani S.p.A. was founded in Trieste the December 29, 1959, as state-owned holding company for the shipbuilding industry it took control of almost all the shipbuilding groups of the time: CRDA, OTO and Ansaldo. Nowadays it is one of the largest shipbuilder in Europe, a true leader in the construction of cruise ships and ferries.

The Italian group declared, considering the 2011 financial statements (last available), a profit for the year in excess of 10 million euro. EBITDA were at a 5.8% margin of 138 million euro, while there was a net cash surplus at 166 million euro over debt. Revenues were at 2,382 million euro.

In its eight shipyards in Italy (Monfalcone, Marghera, Sestri Ponente, Ancona, Castellammare di Stabia, Palermo, Riva Trigoso e La Spezia), two design centers, one research center and two production sites for mechanical components, Fincantieri employs more than 10,000 workers (number that rises to approximately 20,000 including the supply chain at large).

Besides the eight shipyards in Italy, Fincantieri has three shipyards in the USA (Marinette Marine, Bay Shipbuilding, Ace Marine), one, the Lloyd Werft yard, in Bremerhaven, Germany and one in the UAE, the Etihad Ship Building, a joint venture with Melara Middle East and Al Fattan Ship Industries.

Historically based on the production of merchant vessels, passenger ships and naval vessel, in recent years Fincantieri has strongly followed a strategy of diversification investing in the sectors of conversion and ships repair. Pursuing the strategy of diversification on December 21, 2011 Fincantieri acquired STX OSV, a world leader in the construction of offshore support vessels for oil and gas extraction and production, with 10 shipyards located in Norway, Romania, Vietnam and Brazil. Concluding this operation, for a total value of 900 million euro, Fincantieri doubled its size.

The entrance of Fincantieri in the offshore sector is seen as fundamental by the company management, considering that the demand of new, more ecological, and efficient support vessels for oil and gas extractions is destined to grow in consequence of the growth of the world's energy needs, combined (after the Fukusjma disaster) to the limited diversification of energy sources and the reduction of oil reserves in areas of easy access, facts that will require new methods for the exploitation of deposits of recent mapping very often located in deep waters.

The recent acquisition of STX OSV is also seen by many trusted observers as a necessary step before launching an IPO (initial public offering), as it was planned by an economic document of the Italian government in 2008; nor the management nor the Italian government admit that the dossier is still on table, since Italy is going to election in late February and the perspective of a, even partial, privatization of the company frighten the trade unions, especially because in 2011 Fincantieri presented a restructuring plan to regain competitiveness, consisting in the cut of 2500 jobs and closure of two production plants out of eight.

After strong demonstrations of the workers, Fincantieri management retired the plan and the national government apparently abandoned the idea of an IPO, but observers say the need for a restructure and reorganization is still urgent, and will reappear right after February general election.

Proud History, Promising Future
In the cruise ships sector, Fincantieri core sector, the company take advantage of Italy's solid tradition; since the early 1900s the most appreciated transatlantic liners are "Made in Italy", out of many the legendary transatlantic Rex, built in Genoa, winner of the Blue Ribbon in 1933. Nowadays Fincantieri is famous for its gigantic cruise ships; in 2013 the company delivered three new cruise ships, among them the Carnival Breeze, the biggest cruise ship ever built by Fincantieri (128,500 tons).

At the moment the Italian company is building two new ships: Costa Diadema in the Marghera plant, Royal Princess (already launched, but it will be delivered in spring 2013); Other two are at early stages: Regal Princess and one cruise ship for P&O. In total Fincantieri has seven new cruise ships in portfolio to be delivered by 2016.

* Costa Diadema is worth approximately $731m, and the building and fitting-out, which are due for completion at the end of October 2014, will employ around 3,500 workers and 400 contracted suppliers at Fincantieri's Marghera shipyard. The future flagship of Costa Cruises and of the Italian-flagged passenger fleet. At 132,500 g, 306 m in length, 37.2 m in breadth, it can accommodate 4,947 total guests in 1,854 guest cabins, and 1,253 crew members. There is an option for a second sister ship.

* Royal Princess will be the largest passenger ship in Italian shipbuilding history. In fact, at 141,000 gt, 330 m long and 38 m wide, the new ship is the largest ship ever built by Fincantieri (passing last year's Carnival Breeze). It has 1,780 cabins, of which 1,438 have balconies (81%), and is able to accommodate 3,600 passengers, with total capacity for over 5,600 people including crew.

* Regal Princess is the sister ship of Royal Princess. It is being built in Monfalcone and will be delivered in 2014.

* Unit for P&O Cruises: Fincantieri has gained an order from the Carnival to build a 141,000-gt yet-to-be-named cruise ship, due to serve the British brand P&O Cruises. Scheduled to enter service in March 2015, the ship will have a maximum passenger capacity of 3,611 and is set to be the flagship of P&O Cruises fleet, as well as being the largest to be built for the British market.

(As published in the February 2013 edition of Maritime Reporter & Engineering News - www.marinelink.com)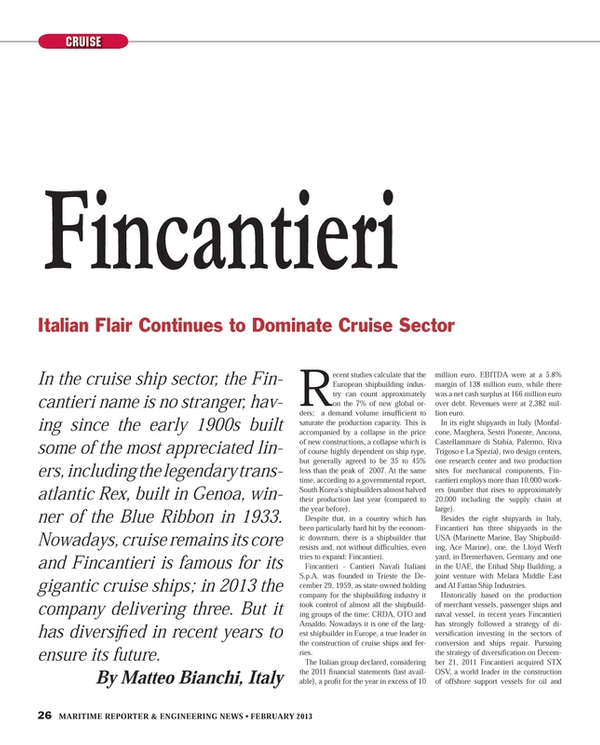 Read Fincantieri Italian Flair Continues to Dominate Cruise Sector in Pdf, Flash or Html5 edition of February 2013 Maritime Reporter
Other stories from February 2013 issue
Content