The ISPS Code
The cost of complying could be high - but not as high as not complying John Riding, director of Marico Marine, speaking at Ship Repair & Conversion in London, presents a rosy picture for the future of ship repair by pointing out that freight rates have not been so high for years and some owners, such as bulk carrier operators are enjoying a rare opportunity to seriously invest in maintenance. The busy state of building yards means that "keeping an older vessel in service longer has great commercial attraction." said Riding. He believes that some repair yards have the potential to make a return for the first time in a long time.
However, there is a fly in the ointment in the form of the ISPS Code.
The code as has implementation date of July 2004 and applies to all passenger ships, including HSC. cargo ships 500 grt and upwards and mobile offshore drilling units.
It also applies to all port facilities serv - ing ships engaged in international voyages.
Riding explains that "port facilities are nice IMO words used to describe terminals." While a government can decide the application to terminals used mainly by domestic trading vessels, terminals serving internationally trading vessels cannot be excluded, which means repair yards are implicated as port facilities.
Under the code, vessels trading i n t e r n a t i o n a i l y must keep a formal record of security arrangements at the last ten terminals and. it is a SOLAS requirement that this is open to inspection on arrival at the next terminal.
This is vital if an owner's next port of call is the U.S. or Australia as both have declared a serious stance on introduction from July 2004.
Riding says; "owners of high profile ships, such as passenger or gas. have a potential commercial need to be selective about which terminals they visit." which may well include limiting selection of repair yards to those able to maintain the security interface to meet the needs of owners.
Riding explains that this is not the end of it as under the ISPS Code the ship also has a right to request a 'Declaration of Security' from the port facility, which is used when the terminal is operating under a lower state of security than the vessel. To sign up for the declaration a yard needs the core components of the code in place from a commercial perspective.
"We don't think ship repair terminals can do without the code but in the UK at least, there is as yet no driving force from the regulator to get things moving." says Riding.
To get the ISPS Code in place the yard must have a Trained Facility Security Officer and a vulnerability assessment needs to be completed by a Recognized Security Organization. Once the vulnerability assessment is complete, a security plan needs to be created and approved. This plan covers a number of set areas, including ongoing audit and testing and allows movement through three levels of security - the level of security being applicable to either ship type or the ongoing level or threat assessment. Riding warns, "the plan must have procedures to achieve this." Riding said that ensuring the identity of flexible contract workers will present a challenge for ship repair yards as will the management of spares and inventory on its way to a vessel from a third party.
He also points out that "improving security to know what is happening in way of underwater inlets and other ports of a higher risk vessel could be expensive." Reactions around the world to the ISPS Code and its effects are mixed.
Some, such as Metalock Brasil, do not believe that it will have a great impact, as it is not a shipyard. Sean Jansen, marketing representative for Dorbyl yard in South Africa has a pretty relaxed attitude saying, "the code will be implemented and it certainly has its pros and cons. The security level will reach a new level and the movement of people will be restricted." However, most yards are taking the implementation of the code very seriously.
even if they think it will not have a dramatic impact on their businesses.
"Yes. we know that the requirements of the ISPS Code will effect our operations," says Malcolm McLaren, president of Allied Shipbuilders in Canada "We know that the requirements of the ISPS Code will effect our operations," — Malcolm McLaren, president of Allied Shipbuilders The Canadian Government Authorities, including Transport Canada and The Vancouver Port Authority, are being very helpful to assist the company, which occasionally handles international traffic, to comply with the ISPS Code.
Keith Burgess, chief executive of Dubai Drydocks says "we are hopeful the new ISPS Code will not have much impact on our operations — because we already have a well-developed security system in place and because we are taking the ISPS implementation very seriously." He explains that the yard has already appointed a port facility security officer and several of its employees are attending training courses and Burgess says "we are now working on a procedural manual along the lines of our HSE documentation — we aim to be ready before the due date." Another that is determined to be ready for the due date is A&P. Clive Towl A&P's group business development director told Maritime Reporter "we're taking the whole thing onboard — we think it's a very good idea and we will be totally compliant in all our yards." Towl agrees that one of the largest headaches will be in the repair of cruise ships particularly with the control of the large number of contract workers.
However, he explains that "what happens there is you have to have contractors that you know and trust and they obviously have to do their own internal vetting rather like IS09000 where it's a down-chain up-chain arrangement where you deal with people that have equal quality and equally secure arrangements.
Some yards, such as Todd Pacific Shipyards in the US and Colombo Dockyard claim to have very high security standards in place. Spiro Risvas.
director of commercial ship repair at Todd Pacific says "Todd, being a Government (US Navy and USCG) approved repair facility for many years already, has very high security standards in place where, in the name of 'Force Protection', provides special measures that satisfy the most stringent level of these requirements. Despite that, Todd is reviewing seriously the parameters of the new ISPS code in an effort to identify possible additional measures to ones existing already. Colombo Dockyard is inside the Port of Colombo, which has been declared a high security zone by the government of Sri Lanka with security provided by the Sri Lanka navy.
That is in addition to the security provided by the Sri Lanka Port Authority.
Darshana Chandrasekera, assistant marketing manager for ship repair at the yard says that "in coming and out going people, goods and vehicles are subjected to very high stranded of scrutiny — security was further improved after September 11 attack and the attack on Colombo international Air Port. It is for this reason that he says the level of security required to be maintained in the yard is minimal. He believes that as an ISO 9001 2000 accredited organisation, the systems and procedures are in place for general security, hence any additional system modifications will not be much of an issue.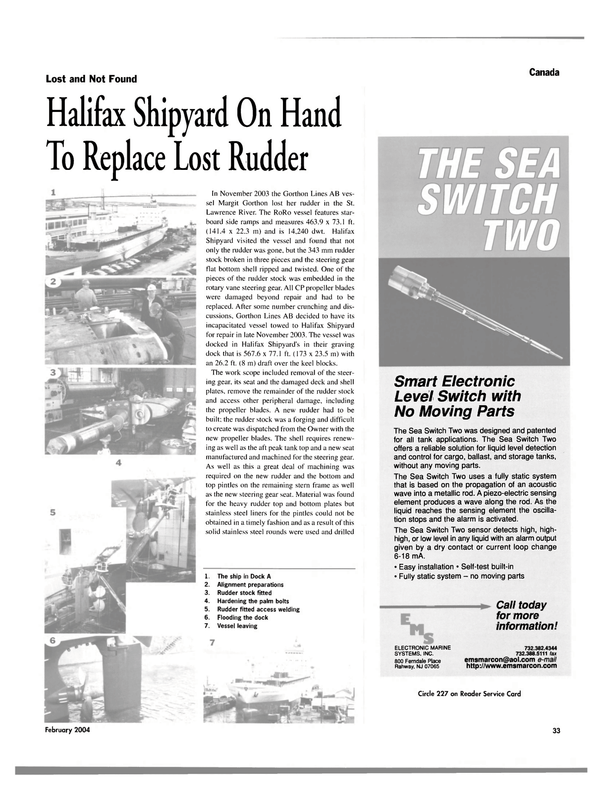 Read The ISPS Code in Pdf, Flash or Html5 edition of February 2004 Maritime Reporter
Other stories from February 2004 issue
Content