M/S Zuiderdam: Modern With Elegant Taste
By Regina P. Ciardiello, managing editor
Taking a moment to think back to when Holland America Line (HAL) first announced the formulation of the new Vista Class at the Sea Trade Cruise Shipping Show in Miami, Fla. in March 2001, it is almost as though we are living in a different world. The cruise industry was booming, there was no such thing, as the Office of Homeland Security and the threats of terrorism seemed only real in distant lands. One thing is the same, however, and that is that despite all these obstacles — both financial and political — HAL stood its ground to work with Fincantieri to build a vessel class like no other - both on the technical and design fronts. MR/EN had the opportunity to explore the premiere vessel of this class — MS Zuiderdam — inside and out during its preview cruise this past December.
By Regina P. Ciardiello, managing editor Departing from the Port Everglades, Fla., MS Zuiderdam set sail for the second of its three preview cruises.
Steaming toward Half Moon Cay in the Bahamas, the vessel was also in the process of fine-tuning its inner workings.
While Zuiderdam successfully completed its sea trials in Italy this past July, its sistership, Oosterdam was in the midst of construction at Fincantieri's Trieste yard for delivery this coming June. Pieter Rijkaart, HAL's director of newbuildings, took the time to point out the ship's innovative features, chief among them the ship's CODAG (Combined Diesel Electric and Gas Turbine) propulsion system, consisting of five Wartsila engines (3 x11,520 kW and 2x 8,640 kW) and one GE gas turbine.
Employing an Azipod pod propulsion package, the vessel can move at speeds of 21 knots. While the ship has two engine rooms, the entire operation is based out of one control room. Hosted by Willem Berends, chief environmental officer, we were able to view the vessel's main switchboard operated by Second Engineer Bart de Bruin, who demonstrated the control room's ability to operate both engine rooms. "The main switchboard on Zuiderdam is redundant," Berends said. "There is one control room onboard this vessel with the gas turbine housed in its own separate area." While the 936-ft. (285.2-m) vessel will be powered mainly with its Wartsila diesel package, there will be times, according to Berends, when it will be necessary to employ Zuiderdam's GE gas turbine. Unlike recent newbuilds, (such as Celebrity's new Millennium class introduced in 2000), the Vista Class vessels will not be powered solely by the gas turbines. Rather than operating on the turbines as the main source of power, the vessel will kick into gas turbine mode when traveling into environmentally sensitive ports, such as Juneau, Alaska. "At sea, we will employ three diesels," Berends said.
"While the gas turbine is cost effective, it will be used in places such as Alaska so that we can properly comply with 'green ship' and environmental regulations." Another measure that Berends pointed out regarding the use of the diesel and gas turbines at the same time is the issue of an emergency situation — particularly in the vessel's engine room. Granted that if a fire were to occur in one of the vessel's engine rooms, the ship could function off its auxiliary power utilizing the diesel engines. The reason for this, according to Berends is merely one of "safety first," since diesels can kick into gear in just one minute — a gas turbine could take almost seven minutes to start up - therefore it would be a safety issue to use both at the same time.
Moving up to the vessel's bridge room, we had the opportunity to meet with the man at the head of Zuiderdam's controls - Capt. Jack Van Coevorden who has been working on HAL cruise vessels since 1972. Van Coevorden, who was born and raised in Indonesia, chose to be a Dutch national in 1951, and following his graduation from high school worked on cargo ships before moving over to the cruise sector.
With all of the electronics equipment supplied by STN Atlas, the bridge also features a GPS by Leica, satellite communications by MTN and GMDSS via Sailor. Van Coevorden also points out that Zuiderdam, as well as all Holland America vessels, employ a separate "safety center" in the bridge area, consisting of fire control equipment, fire doors and the HI-Fog sprinkler system.
In addition, smoke detectors can be heard in each individual stateroom with yellow flashing lights for the hearing impaired should a fire occur onboard - a first for the cruise industry.
A "Waste" of Time A state-of-the-art wastewater system by Rochem and incinerator by Scanship for the removal of Zuiderdam's waste products was a bold move by HAL and Fincantieri, who traditionally employed the Zenon s y s t e m onboard its ves sels. Environmental officer Willem Berends had nothing but positive feedback regarding the decision.
"So far we are happy with the yard (Fincantieri) deciding to use the Rochem system," Berends said. "On this vessel, we employ a system that is of drinking water quality after the first stage of treatment." Despite this claim, however, HAL opted to treat the water a second time, via a reverse osmosis process, just to be 100 percent sure that the gray water is indeed of drinking water quality.
The filtration system designed for this process that treats both accommodation gray water and laundry water, utilizes membrane separation with Rochem UF FM membrane module. According to Berends, "Rochem supplies low pressure reverse osmosis (LPRO) systems to properly treat the gray water and treated black water to provide assurances that the treated water can be discharged." The Rochem FM Module system, which was designed for the purification of gray water according to IMO regulations, has a nominal total recovery of 85 percent, meaning that the supplied quantity of gray water is dispersed into 15 percent waste water and 85 percent clean water. The system's patented membrane design also avoids the usual problems associated with fouling and plugging resulting from biological activity and suspended solids.
Scanship Environmental was chosen as the supplier of Zuiderdam's incinerator system, removing dried food waste and sludge oil.
Moving over to this area of the vessel's engine room was less than pleasant as we were unfortunately able to view the remains of what was served for dinner the previous evening.
Since HAL has a strict recycling policy, items such as aluminum cans are disposed of onshore, while the incinerator mainly deals with the disposal of dried garbage and food waste. Consisting of seven areas: incinerator, dry garbage silo, dry garbage silo with dried food waste section, ash handling system, flue gas system, incinerator control cabinet and dry garbage shredder, the Scanship incinerator consists of an intermediate feeding section, primary combustion chamber and secondary combustion chamber working to fully automate incineration of shredded garbage, food waste and sludge oil.
A Touch of Modern Elegance Keeping with the tradition of employing their exclusive interior designer, Frans Dingemans, HAL wanted to create an atmosphere of intimacy so that passengers would not feel overwhelmed by a large vessel. Dingemans, who is managing director and owner of VFD Interiors based in Utrecht, The Netherlands, stressed during his ship tour his desire for "modern elegance with classic style. "The ship's scale is one of intimacy, as though you are not on a big ship," Dingemans said. "This vessel is unique - there is no other ship with this sort of design floating around." Dealing with a vessel of this magnitude (936 ft. (285.2 m) with a breadth of 106 ft. (32.2 m)) was undoubtedly a daunting task for Dingemans and his team to exude a motif of intimacy and simplicity. Dingemans and his design team fulfilled HAL's request to "appeal to a younger crowd while still maintaining the line's reputation of elegance." "People are retiring earlier, especially the baby boomers," Dingemans said.
"Therefore the market is calling for a more modern look that is more attractive for a younger crowd." The vessel's two dining rooms provide the idea that passengers are actually dining in their own private area. Rather than give off the notion of one large room, the Vista Dining Room is portrayed as "several small dining rooms". Dominated by wood and various hues of burgundy and red, the dining chairs are backed with leather-prints of 17th Century paintings of flowers, while the ceiling is covered with large gold and red-colored flowers or "Fleurs de Mer," created by ceramic and glass artist Barbara Nanning. The artwork is actually several pieces suspended from the dining room ceiling — without visible support.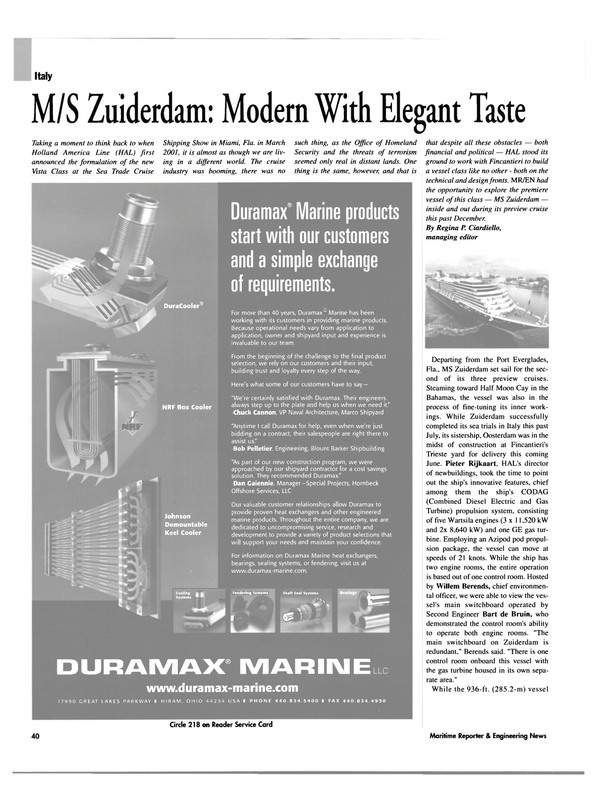 Read M/S Zuiderdam: Modern With Elegant Taste in Pdf, Flash or Html5 edition of February 2003 Maritime Reporter
Other stories from February 2003 issue
Content