Samsung Delivers Excellence
Due to a production glitch, the following vessels from Korea's Samsung Heavy Industries were erroneously omitted from the December 2000 edition. Following are details on OOCL Los Angeles, a 5,500-TEU containership; Vinland, a 126,000 shuttle tanker; and Saibos FDS, a pipelay and crane vessel, all of which are honored as Maritime Reporter & Engineering News Great Ships of2000.
Vessel's Name OOCL Los Angeles Type 5,550 TEU Containership Owner/Operator Nordcapital/OOCL Shipbuilder Samsung Heavy Industries Co.
Designed by Samsung Heavy Industries Co., OOCL Los Angeles is the seventh in a series of 15 containerships ordered by Nordcapital OOCL. Floated out in February 2000 and delivered three months later, the ship is designed and constructed with eight container holds, and the German-flag ship is capable of carrying 5,550 TEU, stowed nine ties by 14 rows in hold and six ties by 16 rows on deck. There are three rows of pontoon type hatch cover on deck shall be arranged in way of hold compartments except No.7 F. Propulsion power for the containership is provided by a B&W12K90MC engine with MCR rating 74,640 bhp at 94 rpm, driving a fixed pitch propeller. To ensure exceptional maneuverability in port, one set of bowthruster has been fitted at forward to ensure the good maneuvering in port.
Accommodation has been provided for 16 officers and 10 crewmembers, in single and six maintenance; crews in three double-berth cabins. One personnel lift has been arranged from navigation deck to third deck.
This vessel has a main engine exhaust gas pipe from the exhaust gas economizer to funnel top is to be carefully insulated and fabricated of stainless steel 5 mm inhibit corrosion. Electrical supply is derived from one main engine driven 2,100 kW shaft generator, three diesel-powered 1,300 kW main alternators and one 150 kW emergency generator.
Fuel oil shall type coolers have been provided for the central cooling system.
The navigation system has been prepared and equipped for one-man bridge operation of DNV W1 concept.
Vessel's Name Vinland Type Shuttle Tanker Owner/Operator Penny Ugland Shipbuilder Samsung Heavy Industries Co.
Vinland, hull no. 1293, is a Canadianflagged 126,000-dwt shuttle tanker measuring 892 x 151 ft. (272 x 46 m), with a tank capacity of about 141,000 cu. m.
Delivered in August 2000, the ship is designed specially to cope with the harsh weather in the North Sea. For instance, the Dynamic Positioning System (DPS) that interfaces with twin CP propellers and four bow and stern thrusters, keeps the vessel's position automatically during bow loading, maximizing its safety and reliability when transferring oil between the oil platform and this ship. In addition, the ship is equipped with the special nav navigation device, which boasts suitable anti-frozen facilities in order to operate in icy waters at outside temperatures averaging 17 degrees C below zero. Samsung Heavy utilized many of the skills needed to construct such an advanced vessel during the construction of a pair of shuttle tankers, Kometic and Mattea, which were delivered in 1997. The shipbuilder also credits The J.J. Ugland Companies for extending to it the confidence in the building of such technically demanding tonnage.
Vessel's Name SaiBOS FDS Type Pipe Lay & Crane vessel Owner/Operator SaiBOS CML Shipbuilder Samsung Heavy Industries Co.
Samsung Heavy Industries Co. delivered the Bahamas-flagged, dynamic positioned pipe lay & Crane vessel pf SaiBOS in mid-December. The Sai- BOS FDS, Pipelay & Crane Vessel has been designed and constructed with the regulation of DNV classification society. Tanks are contained within a complete double side/bottom/bulkhead structure with topside tanks, the inner line of which is extended to form the side of a full length upper deck trunk, also with double skin. In this way, not only is the threat of tank damage from outside reduced, but protection is provided against critical steelwork fractures in the outer hull, caused by extremely low cargo temperatures.
Able to carry a marine crew of 30 with a maximum 169 technicians, the technically advanced ship is outfitted with the latest array of marine equipment. Sai- BOS FDS — which measures 536 x 98 (163.5 x 30 m) — is powered by four Wartsila 16V26 engines, and is able to achieve a service speed of 13 knots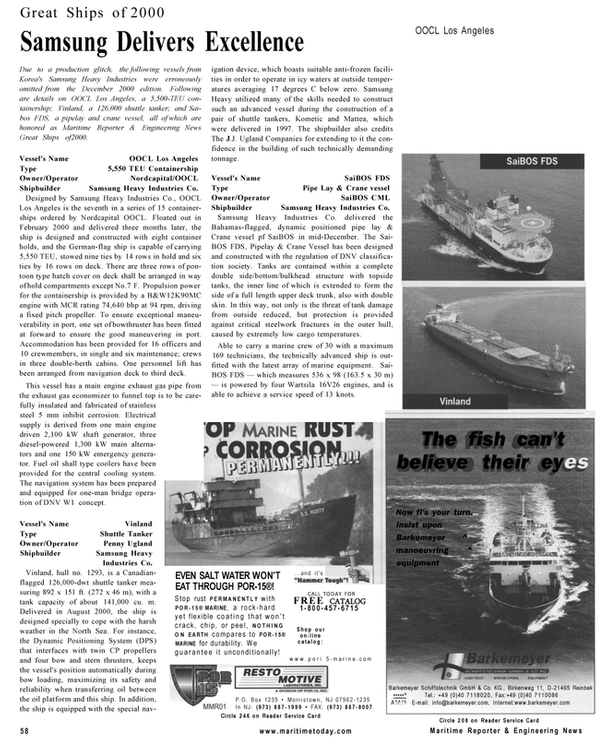 Read Samsung Delivers Excellence in Pdf, Flash or Html5 edition of March 2001 Maritime Reporter
Other stories from March 2001 issue
Content