The Dickinson Way
By Regina P. Ciardiello, associate editor
Walking into Bob Dickinson's spacious office at Carnival Corp. 's Miami, Fla. headquarters, one would be shocked to hear that he isn't in the cruise business to make money. Many executives would be eager to find out how the president of the world's largest cruise line can live by this philosophy. Dickinson, who has served as president of Carnival since May 1993, met recently with MR/EN to shed some light on how his strategies and ideas have kept his company at the top of the cruise industry funnel.
By Regina P. Ciardiello, associate editor Sitting down for a chat with Bob Dickinson is like mixing business with pleasure — you get the job done with a little humor added into the fray. But ask Dickinson what angers him about the cruise industry, and the smile that is usually present, quickly disappears. He's not really interested in building ships for the money, as some cruise lines are — he would rather build ships to make money on their utilization instead.
"I'm not terribly interested if the line makes money," Dickinson deadpanned. "Unlike many companies, we build ships to make money on their utilization — that's why we're the most profitable. It's annoying that most are in this business just to make money for the company." Dickinson follows a philosophy that is simple and makes good business sense — providing more capaci- ty when demand is up. He stresses that the line is not building ships irresponsibly, in other words, every ship in the Carnival fleet is purpose-built. "We don't build ships just for the sake of building them," Dickinson stresses. "We want a solid return on our investment - capacity should be in proportion to demand." Contrary to popular belief, the cruise industry only captures two percent of the travel industry. Even more surprising is that only 13 percent of Americans have ever taken a cruise. While some would see these numbers as a reflection of an industry in trouble, Dickinson strongly disagrees, he cites that the remaining 87 percent are just "not sure if cruising is for them." Steadfastly trying to change this notion since assuming the top position at Carnival, Dickinson and the company's sales and marketing team has marketed the line's ships to the specific wants of the customer. In fact, he cites that he strives to raise that two percent figure to 10 by the time he retires. "Customers have needs," Dickinson said.
"They dictate vacation trends, therefore the product must change itself to meet these needs. The expression of the product 10 years ago was different than it is today." He's referring to how the line has evolved with today's constantly changing technological arena, beginning with its newest "fun ship," Carnival Spirit, which will be fitted with Wartsila's smokeless engine technology. The new EnviroEngine power system is the culmination of a yearlong project between the Finnish engine manufacturer and the line's parent company Carnival Corp.
The package — developed in response to demand from the many scenic and environmentally sensitive areas of the world in which ships cruise - is designed to be the most environmentally friendly power plant available in cruise ship engine technology.
Spirit, which is scheduled for an April 29, 2001 debut, will also house an Internet cafe. Provided by Marine Telecommunications Network (MTN) and Digital Seas International (DSI). The new service allows passengers to check email, get news from around the world and surf the Web — all from the confines of a Carnival ship. It was reported that five of the line's operating ships have been refitted with the innovative workstations that feature "flat-panel" computer terminals.
In order to appeal more to the younger set, Dickinson said the line is strategizing a way of getting kids into cruising with their families so that they will literally become a legacy within the Carnival brand. "We want to expose them to the product as kids, which they will hopefully carry into their adult life." And Dickinson has most definitely hit the ball out of the park with the new "Camp Carnival" program, which features a variety of planned activities to keep children occupied while their parents can enjoy some time alone. "Parents are literally pulling their kids out of school, to take a Carnival cruise," he said.
Top of the Heap In 1996, Dickinson established Carnival's vacation guarantee policy, which is self-explanatory - if you don't like the cruise, you'll get your money back.
Since establishing this idea five years ago, Dickinson is surprised, as well as annoyed, that none of his competitors have followed suit — probably because they are not confident about their product — something that Carnival could never fathom, as confidence is the core of its operation.
Dickinson has even heard of an anonymous operator that offers a bonus incentive to those who raise its operating level that comes within close reach of the Carnival brand — a brand that is undoubtedly the jewel in the Carnival Corp.
crown.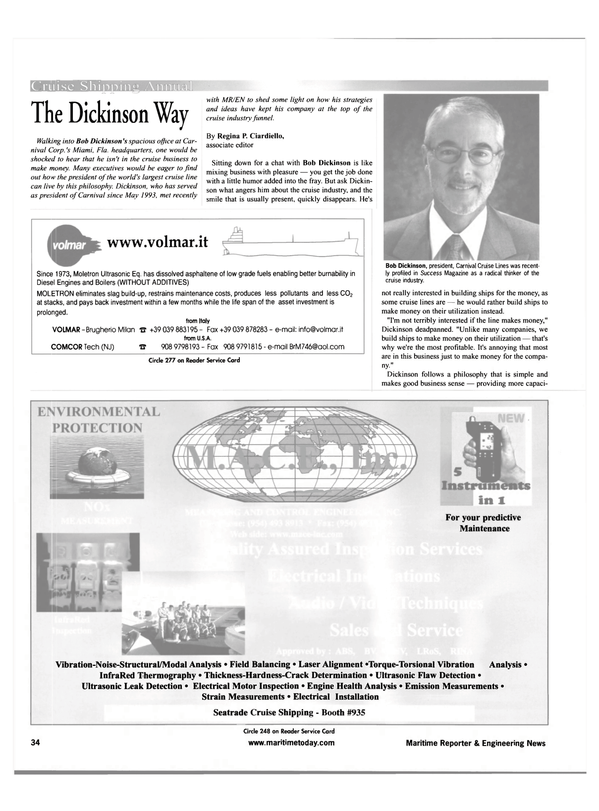 Read The Dickinson Way in Pdf, Flash or Html5 edition of February 2001 Maritime Reporter
Other stories from February 2001 issue
Content