Strong Finish To A Strong Year In Oslo
A December rally on the Oslo Stock Exchange gave maritime shares an extra glitter and ensured a strong finish to an already strong year. Shipping and offshore shares performed marginally better than shares on the general Oslo market during 1999, rallying 8.6 percent in December to finish the year a solid 48.0 percent above last year's close.
The All Share Index, which includes all shares on the Main List, was up 45.5 percent for the year, and shaking off the dismal record in 1998 when the index dropped 26.7 percent. The All Share Index is still 4.4 percent away from its all time high, while the Shipping Index is 24.4 percent below its top mark.
The world's largest cruise operator, Carnival Corporation, announced a bid for NCL Holding (NCL) on December 1 creating an immediate rise in the NCL share. NCL management did not approve of the offer price of $4 per share. Later in December Asian operator Star Cruises announced it had acquired more than 40 percent of the shares in NCL and so was obliged to make a mandatory offering to the remaining shareholders. The offer is reported to be $4.40 per share and NCL ended the year at 34.60 - up 52.4 percent for the month.
For the year as a whole Frontline (FRO), I.M. Skaugen (SKA), Jinhui Shipping (JIN) and Stolt-Nielsen B (SNIB) all more than doubled their value, while at the other end Loki (LOI) and MIF (MIF) on low volumes more or less halved their share prices during 1999.
Among offshore shares Havila Supply (HAV) topped an impressive December ranking with a rise of 50 percent. Other high performing shares in the month were Det Sondenfjeldske (SFJ), Ocean Rig (OCR) and Ugland Nordic Shipping.
These four shares, however, also occupy the first four spots on the losers' list for 1999 as a whole.
Navis (NIS) ended in second place in December as the share rose 28.3 percent, while Awilco B (AWSB) snatched fifth place on the all year losers' list just in front of its A-class share (AWS).
TGS Nopec (TGS) fell almost 60 percent during 1998. but came back strongly last year with an increase in its share price of 183.1 percent. Stolt Comex Seaway (SCS) and Stolt Comex Seaway A (SCSA) were closest; both were up about 95 percent.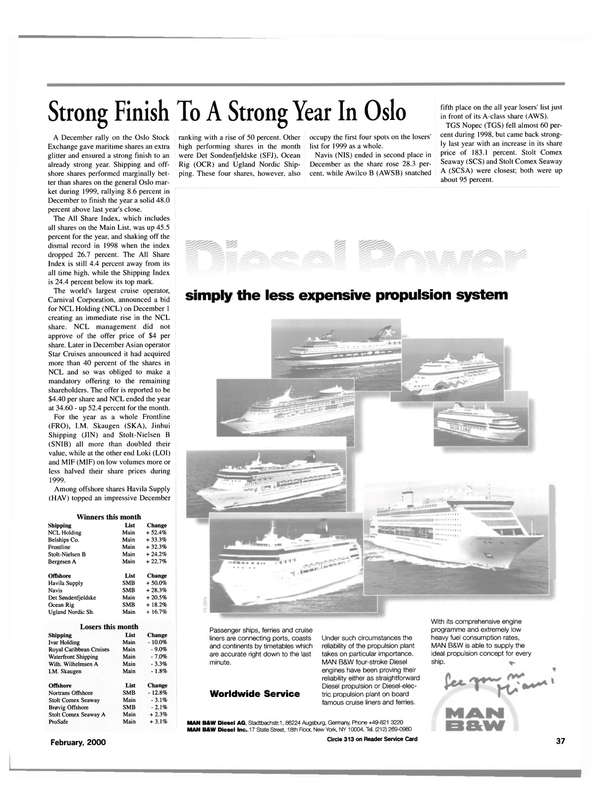 Read Strong Finish To A Strong Year In Oslo in Pdf, Flash or Html5 edition of February 2000 Maritime Reporter
Other stories from February 2000 issue
Content