Marine coatings & corrosion control
Last year, the U.S. Senate passed the "Organotin Antifouling Paint Control Act of 1988" which controls the application of tributyltin (TBT) antifoulings in the U.S.
In response to this new legislation, several major marine coatings suppliers have introduced new TBTfree antifoulings. Additionally, a number of coatings suppliers have also expanded their marine lines with the addition of new, high technology products.
The following is a brief overview of the latest products and services introduced by the major suppliers of marine coatings and corrosioncontrol systems. This review is based upon their responses received as of press time.
FOR MORE INFORMATION If you wish to receive additional information on any of the products or services described in this review, circle the appropriate reader service number(s) on the postage-paid reader service cards near the back of this issue.
AMERICAN ABRASIVE METALS Circle 85 on Reader Service Card American Abrasive Metals Company, Irvington, N.J., is offering free literature on its multipurpose, resin- based safety coating which can be applied to floors, stairs, ramps, and decks aboard commercial boats.
Known as Epoxo, the improved safety coating is particularly useful to marina operators and commercial fishing boat owners to reduce hazardous slippery conditions.
The company reports that maintenance personnel will find cleanup fast and easy since Epoxo is unaffected by harsh detergents. Depending on location, Epoxo can be applied by roller or trowel over properly prepared concrete and steel to protect these surfaces against spills such as water, oil, solvent, grease or hydraulic fluid, while providing sure footing to personnel.
Epoxo acts as a barrier against surface penetration by spills and can withstand cracking or disintegrating under heavy vehicular and foot traffic.
AMERON MARINE Circle 86 on Reader Service Card Increasing concern over the use of tributyltin (TBT) antifoulings and their release of tin into the marine environment, has resulted in UBEM NV of Antwerp, Belgium, specifying the application of an Ameron Marine tin-free antifouling for its 170,000-dwt bulk carrier Belval.
As part of the vessel's scheduled underwater hull maintenance and repair work, its previous Ameron organotin A/F system was overcoated with Amercoat® 70 ESP, a tin-free self-polishing antifouling.
The generally good and clean condition of the boottop, vertical bottom and bottom flats meant that only a limited amount of abrasive blasting was required, particularly to prepare areas which had suffered mechanical damage.
Bare metal areas were treated with a touch coat of Amerlock® 400 Aluminum, and then a touch-up coat of ATMC 540 High Solids Vinyl Tar, to provide the vitally important anticorrosion protection.
This treatment provided the base for two touch-up coats of Amercoat 70 ESP antifouling, at 80 microns each, followed by a full coat at 100 microns.
Chlor-rubber primer and finish coatings for the topsides were also supplied by Ameron Marine Coatings.
Amercoat 70 ESP is a high-performance, tin-free antifouling, marketed and sold by Ameron to market segments and customers who need and want this product as an alternative to organotin copolymer antifoulings.
According to a spokesman for Ameron Marine Coatings, its product research and development has not stopped with tin-free antifoulings.
It is highly conscious of the growing worldwide concern with problems related to ecology and the environment, and is continuing to work on low toxicity and non-toxin alternatives to both tin and copperbased antifouling products.
CTI COATINGS Circle 87 on Reader Service Card CTI Industries, Inc., Fairfield, Conn., recently formed a new coatings division, CTI Coatings, which will specialize in the formulation and application of high-performance coatings for high value and critical items.
Staffed by a unique group of engineers, estimators and applicators, CTI Coatings offers extensive experience in marine, power generation and chemical processing engineering.
Jeff Longmore, the newly appointed division manager, has more than 20 years of technical and plant management experience in the marine and industrial coatings industry.
CTI Specialty Coatings are formulated to provide superior anticorrosion protection and repair for all exposed surfaces. Heat exchanger interiors, steel and concrete tanks, hulls, rudders, pumps and housings, exhaust ducts, piping, and FRP structural repair are but a few of the uses for CTI's high performance coatings.
CTI specializes in quality controlled on-site application. Recent investments in new application and test equipment and the introduction of new structural repair processes, further strengthen the firm's commitment to providing high quality, turnkey coating systems. The firm also recently expanded its Stratford, Conn., plant with the addition of an extensive blasting and coating facility. The facility is equipped to handle abrasive blasting and coating of objects up to 10,000 pounds.
CTI Industries is a full service organization providing restoration and preventive maintenance service and products for heat exchangers, condensers and associated equipment.
Operating worldwide, CTI serves major utilities, refineries, chemical processing plants, the merchant marine and the U.S. Navy.
DEVOE COATINGS Circle 88 on Reader Service Card A world leader in high quality technologically advanced protective coatings, Devoe Coatings Company, with a history dating back to 1754, is one of the oldest corporations in the U.S.
Devoe Coatings offers a complete line of proven performance VOC compliant coatings extending from alkyds to urethanes.
Catha-Coat 318 is a solvent base inorganic zinc primer. Its 3.19 pounds/gallon VOC meets solvent emission requirements. The company claims it can be recoated in less than two hours, and it is virtually impossible to make this coating mud crack or produce top coat bubbling.
Bar-Rust is Devoe Coatings' trademark for a series of unique, advanced technology epoxies. These products can be utilized above and below the waterline. Most have low temperature cure and recoat times of less than four hours. VOC for this advanced technology line are 2.4 pounds/gallon for Bar-Rust 235, 1.41 pounds/gallon for Bar-Rust 236, and 2.72 pounds/gallon for Bar- Rust 239.
Devoe has developed a group of 100 percent solids epoxy coatings that are mixed and applied with standard painting practices and equipment. There is no expensive plural equipment required to obtain epoxy materials with a VOC of "0".
These materials can be applied up to 1/2-inch thick and provide excellent abrasion and water immersion resistance. Devran 184 is a 100 percent solids epoxy tank coating. Devran 188 is a 100 percent solids epoxy hull coating, particularly effective on icebreakers. All of Devoe's 100 percent solid epoxies have a "0" VOC and yet a working pot life of two hours.
Devran 646 and 648 are Devoe's water-base epoxies. These unique coatings have a VOC of less than .5 pounds/gallon. They can be used as not only exterior coatings, but as tank linings for water, ballast and fuels. Both of these materials are not only water-based, but waterthinned, producing not only extremely low VOC, but also, no flash point.
Devoe is also recognized for its leadership in antifouling coatings. A full range of antifouling materials with release rate guidelines to Devoe's ABC #3 Tin-Free Ablative.
DREW AMEROID MARINE Circle 89 on Reader Service Card Drew Ameroid® Marine now offers a specially designed air-powered spray system to apply Magnakote ® rust preventive coating. The equipment operates with ship's service air, at a pressure of 20-100 psi, and enables the user to get a uniform, adherent coating, quickly and easily.
The complete system consists of a filter/regulator, pump, hose, suction tube and a unique spray gun with turret nozzle. The multijet nozzle has four, easy-to-set detented spray settings allowing optimum Magnakote coating coverage over a range of spraying distances, minimizing the need for staging, and reducing overall labor costs. One customer reports an 80 percent reduction in staging when using the equipment for spraying Magnakote coating.
The spray gun assembly is designed to provide reliability and safety without placing physical strain on the operator. The system may also be used for a variety of other shipboard chemical applications and to facilitate cleaning and maintenance jobs.
Magnakote rust preventive coating is a patented compound of organic and inorganic chemicals in a matrix of gelling and drying oils. It is an inexpensive and durable alternative to traditional ballast tank coatings, sacrificial anode systems and older technology, non-drying, float coatings. Magnakote coating requires minimal surface preparation and can be applied in port, in a shipyard, or in transit by the ship's own personnel. Magnakote dries in 48 hours and can be applied to a damp or dry surface. Because of its unique properties, it can also be applied over rusted or new steel.
As part of Drew's Magnakote "Life Preserver Program," (service available at selected ports) ships' ballast tanks are inspected by qualified Drew representatives, who evaluate and advise on preventive maintenance and recoating requirements.
After application, the shipping company is periodically reminded of the recoating needs of the tank, thereby assuring maximum corrosion protection.
ELECTROCATALYTIC Circle 90 on Reader Service Card Electrocatalytic, Inc., Union, N.J., offers the Capac® impressed current protection system and the Chloropac® system for commercial and military marine applications.
Capac impressed current protection system is a leading tool selected by ship management to extend drydock intervals.
Capac systems employ hull potential control which, the company claims, is superior to conventional non-controlled sacrificial anode protection.
The Capac large ship anodes employ clad platinum metal on niobium and tantalum. The clad anode gives life and quality higher than either electroplated, or thermal type coated anodes.
The potential control of all Capac systems is guided by robust guarded, silver-silver chloride electrodes giving stable long life performance.
Used to eliminate microbiological- induced corrosion, the Chloropac system has been selected by over 1,000 shipowners and offshore operators to control marine fouling in seawater, firefighting, cooling and general service piping.
The Chloropac system is environmentally acceptable because it does not add any heavy metal or biocidal chemicals to the water nor does it require acid cleaning.
The Chloropac system is very efficient.
Water is split in the electrochemical cell. Oxygen is added to the halogen in seawater forming hypobromite and hypochlorite. The halogens, especially hypobromite, are very effective biocides in extremely low concentrations, typically 200 parts-per-billion. Any organism that attempts to attach itself to marine metals is subject to sterilization after several days of treatment. Once the bacteria, which destroy the metal's corrosive resistant film, are eliminated, the low level hypobromide and hypochloride enhance the metal's film forming.
Electrocatalytic manufactures all the components of its Capac systems.
Each Capac system is tailored for the individual user's requirements.
For military applications with 7 to 10 year drydock intervals, specified capacity exceeds 100mA/ m2. Commercial applications for a five-year drydock interval typically employ an 80 mA/m2 design standard.
Shipboard Chloropac models are stocked in sizes from 0.01 pounds/ hour to 11 pounds/hour capable of treating all flow rates up to 70,000 gpm. The units are backed by a worldwide network of service engineers with spare parts in stock.
HEMPEL'S Circle 91 on Reader Service Card Hempel's Marine Paints has introduced a powerful, computerbased data storage and retrieval system, Shipdata, designed to extend the effectiveness of the firm's popular "tailor-making" approach to coatings selection.
In addition, Hempel's has also introduced a range of tin-free antifoulings for the commercial shipping market.
Based on data Hempel's has accumulated on ships coated with its products over the past decade, the Shipdata system already contains some 25 million individual items of information (registrations) on about 13,000 ships, covering newbuildings and drydockings.
Shipdata is used for performance analysis, feedback to research and development, case histories and customized reference lists.
The registrations are used for calculations for a particular ship or selected number of vessels, the condition both before and after drydocking, and to establish the basis for analysis of a particular coating system's performance, lifetime, etc.
Shipdata provides the information necessary for the preparation of truly tailored specifications giving, for example, reduced dry film thickness per coat or number of coats, or an evaluation of the safety margin or performance factor of each individual specification.
As for the coatings themselves, Hempel's new tin-free range, which covers both non-polishing and ablative antifoulings, involves new tech- nology and the use of a novel antifoulant.
The company's popular, non-polishing coating, Classic, is now available in a tin-free version.
Hempel's new ablative antifoulings for the commercial shipping market function in a similar manner to copolymer types in that the applied film gradually diminishes through physical erosion during time in service. As with copolymer types, this provides for exposure of a fresh active layer of antifoulant.
The difference lies in their mode of action/control which (not being on the molecular level) may be condensed as a mainly physical, as opposed to chemical, process. In this sense, the ablatives can be considered as polishers rather than selfpolishers.
INORGANIC COATINGS Circle 92 on Reader Service Card Inorganic Coatings, Inc., Malvern, Pa., manufactures and markets IC 531, a high-ratio, waterbased, silicate/zinc coating.
Developed by NASA, IC 531 is based on breakthrough silicate technology which the company claims offers virtually permanent protection for steel. It is a no-cure inorganic zinc which dries in 30 minutes and can be topcoated in two hours or less. Because it is water-based, it has zero volatile organic compounds, thins with water and does not generate hazardous waste.
IC 531 is NAVSEA approved under Chapter 631, paragraph 631- 7.97 of the Naval Ships Technical Manual and is currently being used in marine and offshore industries on a variety of equipment and applications.
Inorganic Coatings has taken the corrosion protection of IC 531 silicate/ zinc and coupled it with high performance, water-based and high solids coatings to offer premium systems for nearly every application and environment. Inorganic Coatings representatives offer assistance with proper coating selection and specifications.
Inorganic Coatings has become a leader in informing the marketplace on the performance of water-based coatings and low VOC products.
The company sponsors seminars on water-based coatings several times a year across the U.S., and is currently publishing a new catalog which not only addresses systems and products, but includes historical performance information and technical articles on corrosion, the economics of coating systems and coating selection.
INTERNATIONAL PAINT Circle 93 on Reader Service Card Tanker operators are now able to carry a much broader spectrum of "aggressive cargoes" with the use of International Paint Marine Coatings' Interchem TC 900, a tank coating series offering maximum flexibility of cargo carriage.
The Interchem TC 900 system utilizes innovative modified epoxy technology allowing a greater degree of chemical curing at ambient temperatures and, thus, a greater cargo resistance range compared to conventional epoxy and epoxy-phenolic systems. This is made possible by the reaction of a high molecular weight epoxy resin by way of its active hydrogen groups maximizing cross-link density within the film.
The system offers the widest spectrum of chemical resistance currently available from organic tank coatings.
It is the result of three years of concentrated research and development into marine tank coatings by UK-headquartered International Paint Marine Coatings.
Interchem TC 900 series offers tanker operators the opportunity to carry such diverse cargoes as unrestricted vegetable oils, ketones, caustic soda and methanol, without the need for the post heat curing procedures normally associated with tank coatings of similar in-service performance capabilities.
A key factor in this new tank coating's flexibility is its resistance to softening, even in low molecular weight solvent cargoes. This is due to the coating's optimized chemical and physical properties which result in a tough, resilient film which has less tendency to absorb cargo compared to conventional epoxy-based systems. For tanker operators, this may lead to faster turn-around times between cargoes as a result of easier tank cleaning.
Offering a broad spectrum of cargo resistance, Interchem TC 900 series is the premier product in the International Paint tank coating range, which includes the pure epoxy Intergard TH 700 series and Interzinc QHA zinc silicate as well as Intergard THB series pure epoxy.
Introduced to the marine market in 1987, Intergard TH 700 series has been successfully specified and applied to over 200,000 m2 of cargo tanks.
Interzinc QHA series, an ethyl silicate, offers excellent performance against a wide range of neutral chemicals and solvents and has been applied to more than 200 vessels over the last 10 years.
This product range is supported worldwide by an experienced dedicated sales and technical team.
JOTUN VALSPAR Circle 94 on Reader Service Card Jotun Valspar is the Marine Coatings Division of the Valspar Corporation.
Valspar is among the largest manufacturers of coatings in the U.S., having acquired within the past four years, Mobil's North American Coatings Division, Farboil Marine Coatings and Jotun A/S North American Marine Coatings.
As a result of these acquisitions, Jotun Valspar is among the leading suppliers of marine coatings. Of particular note is Jotun Valspar's supply of Sovapon Tank Coating to the marine industry, including the U.S.
Navy. Sovapon Tank Coating Systems are formulated with epoxy resins that are cured or converted by a reaction catalyst at atmospheric temperatures.
The company reports Sovapon has been applied to liquid cargo tanks, and deep tanks on hundreds of vessels, with an outstanding record of success.
Sovapon tank coatings are applied as a two-coat system, and provide efficiencies by eliminating the need for steel renewals, preventing commodity contamination between cargoes, faster drainage of cargoes, and quicker tank washing and gas freeing.
The Sovapons are extremely durable, tough, and smooth with excellent adhesion, resistance to undercutting, peeling, and blistering. Additionally, Sovapon complies with FDA requirements, is accepted by regulatory agencies as a potable water tank lining, and also meets DOD requirements as a lining for fuel/ballast water tanks.
Included among Jotun Valspar's line of coatings are a variety of products based on various generic resin systems, as for example, organic zinc coatings, manufactured with chlorinated rubbers or epoxy resins.
Inorganic zinc coatings are also provided with solvent or water using silicate resin systems. Of significant interest to the marine industry is a one-package inorganic zinc silicate coating that is used as a pre-construction ship primer. This product is applied automatically after abrasive blasting at a dry film thickness of approximately 0.75 mils, and will provide corrosion resistance without topcoating for about one year. Jotun Valspar zinc coatings have had extensive marine service, with applications on exterior or hull topsides, deck and cargo tanks of vessels.
Recent innovations include the introduction of Vepok, a unique group of protective coatings that can be applied over oily, wet, rusty surfaces and a high-ratio waterbased inorganic zinc rich coating (MZ-6) that offers unique dry and topcoat applications.
Jotun Valspar is a complete supplier of coatings to the marine industry, and therefore in addition to the above mentioned coatings, also manufactures and provides antifouling paints and specification coatings that are used by government agencies including the U.S.
Navy.
NALFLEET, BULL AND ROBERTS Circle 95 on Reader Service Card Ballast tanks can be protected from rust through the use of Maxi- Cote corrosion inhibitor from Nalfleet, Bull and Roberts Inc., Springfield, N.J. When the product is applied, it produces a stable film on the metal surface, above and below the waterline.
The protective film remains soft and flexible, repels water and forms a chemical bond with the base metal, producing a strong durable surface adhesion. It penetrates existing rust, cutting down considerably the usual preparation time required with some alternative corrosion control methods.
This low viscosity liquid is easily applied by flotation, spray or brush, over existing coatings and rusted surfaces, in wet or dry conditions.
Maxi-Cote applications are simple to inspect because they remain visible on the tank surface. With its high flash point and neutral pH, it is non-toxic and safe to use.
When properly applied, Nalfleet, Bull and Roberts claims that with normal ballast tank operations, Maxi-Cote will provide effective corrosion protection for over two years.
PRC Circle 96 on Reader Service Card More than one million square feet of Proreco® deck coating systems have been applied to exterior decks of small boats, large commercial ships, towboats, offshore rigs and military ships. Manufactured by Products, Research & Chemical Corporation (PRC) of Glendale, Calif., the interior and exterior Proreco coating systems are fireretardant, and resistant to acids, caustic chemicals and petroleum products.
Proreco III exterior coating systems are used to virtually eliminate costly maintenance and down-time for working ships. The PRC Proreco I I I coating systems are specified by many naval architects and specified by the military due to its known track record for corrosion control, dependability and long wear.
Proven to be most effective, the Proreco III coating systems have an inherent flexibility to withstand normal stress caused by deck movement.
The fire-retardant systems provide excellent corrosion control and are resistant to abrasion and impact. According to PRC, one of the advantages of Proreco I I I systems over rigid coatings is that the Proreco elastomeric base is not brittle and subject to cracking, chipping or spralling.
The Proreco I coating system is specified for habitability areas such as heads, galleys and mess decks.
Proreco I is a low-cost, minimal maintenance system for living spaces. The Proreco I polyurethane coatings provide an attractive high gloss appearance coupled with the long-wearing capability and flexibility to withstand structural movement, impact and abrasion, with extended extended corrosion control. The Proreco I coating system has both U.S.
Navy military specification and SOLAS approvals.
PRC supplies to the marine market a full line of both one-part and two-part polyurethane and polysulfide sealants, caulking compounds, hull coatings and compounds.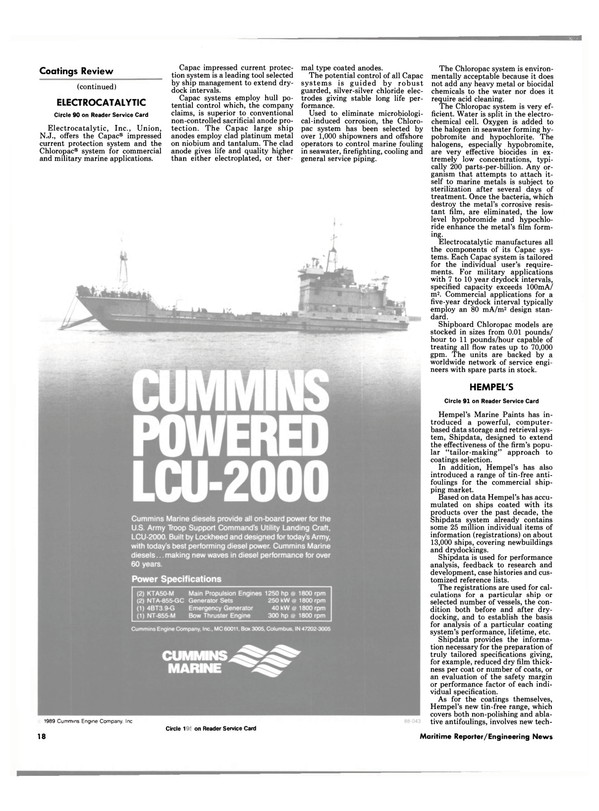 Read Marine coatings & corrosion control in Pdf, Flash or Html5 edition of February 1989 Maritime Reporter
Other stories from February 1989 issue
Content