A.S.N.E. DAY '88 A CENTENNIAL CELEBRATION
'100 Years Of Naval Engineering' May 3-7, Washington, D.C.
The year 1988 marks the 100th anniversary of the American Society of Naval Engineers (ASNE). To commemorate this important event, and their 100 years of achievement, ASNE Day '88 will consist of a Centennial Week of Celebration at the Omni Shoreham Hotel in Washington, D.C., May 3-7.
The event includes technical papers on 100 years of naval engineering, special historical panels, tours of the Washington Navy Yard, David Taylor Naval Ship Research and Development Center, the U.S. Coast Guard Yard and the Smithsonian Institute and numerous exhibits on naval products, services and equipment.
The society, which was formed in 1888 to publish a professional jour- nal and provide a forum for exploring and exchanging new ideas and technology while sharing experiences in naval engineering, represents over 8,500 military and civilian naval engineers. About 200 exhibitors will be on hand to demonstrate their products and services.
Regarded annually as ASNE Day, the five-day event will begin Tues- day evening, May 3, at the Washington Navy Yard, one of the first naval shipyards in the United States, followed by a reception at the yard's Navy Museum.
Traditionally the best-attended annual Navy show, ASNE Day primarily focuses on Naval vessels— ship design, ship machinery, equipment and engineering advances.
On Wednesday, May 4, activities begin at the Omni Shoreham Hotel with special sessions designed to look at the past, present and the future of naval engineering. Session I is titled "Once Upon A Time," and Session II, "Memoirs," includes a skit set in 1888.
Session III, "Recent Engineering Developments," will focus on the present, followed in the afternoon by a distinguished panel discussion in Session IV, "Visions of the Future." At noon, the Centennial luncheon will feature Adm. Kinnaird R.
McKee, USN, director, Naval Nuclear Propulsion and provide the opportunity to present a commemorative gift for display in the Reagan Presidential Library.
That afternoon, tours will depart from the Omni Shoreham Hotel for the David Taylor Research Center in Carderock, Md., and the Naval Surface Warfare Center in White Oak, Md.
Thursday the standard ASNE activities begin at the Shoreham with the opening of industry exhibits.
Corporations representing the naval engineering community will be on hand to display the latest in naval engineering technology, services and equipment. Later that evening, the Annual Exhibit Hall Reception honors the industry participants in the program.
Also on Thursday, two days of technical sessions begin with more than 20 presentations on topics such as ship design, combat systems, propulsion systems, electromagnetic logistics, ship machinery and materials.
The May 5 luncheon will honor the authors of these papers and provide a forum for the presentation of the Solberg and "Jimmie" Hamilton Awards.
The "Jimmie" Hamilton Award is presented annually to the author(s) of the original technical paper of the greatest value and significance to naval engineering and published in the Naval Engineers Journal during the year.
The Solberg Award is given to the U.S. citizen who has made the most significant contribution to naval engineering through personal research carried out during or culminating in the three-year period ending in the year of consideration.
On May 6, following the Friday morning technical sessions, the ASNE Isherwood Lecture Series will be inaugurated in recognition of the profession of naval engineering as an evolving analytical discipline.
This lecture series will sponsor a philosophical and objective perspective from Dr. Robert A. Frosch, vice president, General Motors Research Institute.
Later on Friday, the annual reception and banquet will be held in the Omni Shoreham's Blue Room and Regency Ballroom. The banquet, a tradition at ASNE Day, will include the Navy Band, a Military Color Guard and presentation of the society's Gold Medal and Harold E.
Saunders Awards.
The Gold Medal Award is given annually to the U.S. citizen who, in the field of naval engineering, has made the most significant engineering contribution through personal effort, or through the direction of others, during or culminating in the five-year period ending in the year of consideration.
The Saunders Award is presented annually to the U.S. citizen who has demonstrated productivity, growth and outstanding accomplishment in the field of naval engineering over the years, with ultimate wide recognition by his peers as a leader in the field and of such prestige as to merit acclamation by the naval engineering community.
On Saturday, May 7, a choice of several tours including a trip to the U.S. Coast Guard Yard and Baltimore's recently renovated Inner Harbor, a trip to the U.S. Naval Academy in Annapolis with a stop at the David Taylor Research Center, or a trip to the Naval Surface Warfare Center at Dahlgren.
Saturday night will wrap up ASNE Day '88, "100 Years of Naval Engineering," with a special Centennial Reception and a formal Centennial Ball. The black tie affair will be held at the Omni Shoreham from 7 p.m. to midnight. The event will feature a 15-piece stage band, cocktails, dinner and dancing.
ASNE will publish a history, "100 Years of Naval Engineering," that will chronicle many important engineering accomplishments made dur- ing the life of the society. A video covering the same time period and a history of the society are also being prepared.
The American Society of Naval Engineers (ASNE) was born in the age of wooden-hulled Navy ships which were propelled by reciprocating steam engines with coal-fired boilers and armed with muzzleloaded guns.
The magnitude of the advances in naval engineering technology since that time can be measured by today's use of guided missile systems, nuclear propulsion, gas turbine engines and modern electronics.
However, even with all the numerous technological breakthroughs and advances in naval technology, the society still has its same basic purpose—to advance the knowledge and practice of naval engineering; to enhance the professionalism and well-being of its members; and to promote naval engineering as a career field.
The society was founded in 1888 by a small group of 20 officers of the Engineering Corps of the U.S. Navy.
They met in the Bureau of Steam Engineering in Washington, D.C., with the intention of developing a means of dissemination of technical information to the Navy relative to the naval engineering field. One of the officers present, Assistant Engineer A.M. Mattice, proposed that an organization known as the American Society of Naval Engineers be formed for purposes of promoting naval engineering professionalism and prestige. Included in the discussion was the possibility of presenting and preserving papers pertaining to debatable and developing topics in naval engineering. Under the guidance of Rear Adm. G. W.
Baird, USN, who would be the society's second president, the officers accepted this proposal and decided to publish a quarterly journal to carry out the major objectives and ideas of the society. ASNE's first president was Chief Engineer Nathan P. Towne, USN.
Since its first three months when its membership stood at 102, the society has grown to represent more than 8,500 military and civilian naval engineers. Its journal is read in over 50 countries.
The annual ASNE Day, an event which has become a tradition, is a major technical, social and business function of the society. ASNE Day, which consists of business meetings, a reception and luncheon, technical sessions, a banquet and a large number of industry and government exhibits, can trace its roots back to 1889. During the period of 1889- 1898, annual meetings of the society included the presentation of technical papers. However, the practice was discontinued until 1962, when the term "ASNE Day" was instituted.
ASNE Day '62 consisted of a luncheon attended by about 500 members and guests, an afternoon technical session featuring five papers and a banquet attended by about 1,500 participants. The first exhibits were introduced at ASNE Day '67.
For further information about the American Society of Naval Engineers, contact: ASNE, 1452 Duke Street, Alexandria, Va. 23214; telephone: (703) 836-6727.
ASNE DAY 1988 Thursday A.M., MAY 5 Palladian Room—Session 1A Moderator: Peter P. Palermo Robert Williams, Assistant 0845: NAVY SHIP DESIGN—EVOLUTION OR REVOLUTION? by Capt. Barry F. Tibbitts, USN, Robert G. Keane Jr. and Robert J. Riggins 0930: NTDS—A PAGE IN NAVAL HISTORY by Capt. Erick N. Swenson, USNR (Ret.) and Capt. Joseph S.
Stoutenburgh, USNR (Ret.) and Capt. Edmund B. Mahinske, USN (Ret.).
1015: FROM TYPHON TO AEGIS—THE ISSUES AND THEIR RESOLUTION by Capt. Bryce D. Inman, USN (Ret.).
Hampton Room—Session IB Moderator: Larry J. Argiro James L. Corder, Assistant 0845: PATROL BOAT HABITAESILITY NOISE CONTROL by Raymond W. Fischer.
0930: A SURFACE NAVY VIBRATION PROGRAM OVERVIEW: STANDARDIZATION AND STATE OF THE ART by Bruce R. Marshall.
1015: STATIC AND UNDERWAY ALIGNMENT OF MAIN PROPULSION SHAFT SYSTEMS by Lyssimachos Vassilopoulos Thursday P.M., MAY 5 Palladian Room—Session 2A Moderator: Capt. John Dachos, USN Donald J. Liberatore, Assistant 1445: INTEGRATED MACHINERY CONTROL—THE WAY OF THE FUTURE by Barry Taylor and Rashid Khan.
1530: TEST AND EVALUATION OF THE REVERSIBLE CONVERTER COUPLING REVERSE REDUCTION GEAR by Robert P. Nufrio.
1615: ADVANCED DAMAGE CONTROL SYSTEM by David Geer.
Thursday P.M., MAY 5 Hampton Room—Session 2B Moderator: RAdm. Lowell J. Holloway, USN Capt. Gilbert L. Kraine, USCG (Ret.).
1445: SHIP EM DESIGN TECHNOLOGY by Shing Ted Li, Ph.D.: James C.
Logan, and John W. Rockway, Ph D 1530: PROTECTIVE DEVICES IN NAVY SHIPBOARD ELECTRICAL POWER SYSTEMS by John I. Ykema.
1615: COMBAT SYSTEM UPGRADE ENGINEERING by Richard A.
Holden.
Friday A.M., MAY 6 Palladian Room—Session 3A Moderator: RAdm. Robert L. Topping, USN James F. Horton, Assistant 0845: ORDNANCE ON TARGET: THE IMPROVED 16-1N GUN WEAPON SYSTEM by LCdr. Richard W. White, USN, and Thomas H. Antoniuk 0930: SEA LANCE WEAPON DEVELOPMENT—SYSTEM AND NAVAL ENGINEERING ASPECTS OF THE CAPSULE by LCdr. Ronald " J" Booth, USN (Ret.).
1015: ROCKET MOTOR DESIGN FOR UNDERWATER SHOCK by Jon J.
Yagla, Ph.D.
Hampton Room—Session 3B Moderator: Capt. Robert E. Kramek, USGC Allen G. Ford, Assistant 0845: THE ADVENT OF THE PAPERLESS SHIP by John E. Chickering.
0930: HISTORY OF COAST GUARD SURFACE EFFECT SHIP PERFORMANCE IMPROVEMENTS by Gary Larimer, Joseph McCollum, Benton Schaub, Cdr.
Donald Van Liew, USCG, and Charles Whipple.
1015: A COMPUTATIONAL PROCEDURE FOR PREDICTING STRUCTURAL LOAD AND RESPONSE OF A SWATCH SHIP IN WAVES by Edward T. Reilly, Yung S. Shin, and Ersnt H. Kotte.
Friday P.M., MAY 6 Palladian Room—Session 4A Moderator: Robert J. Scott Bruce H. Barber, Assistant 1430: APPLICATION OF A GENERAL PURPOSE COMPUTER-AIDED DESIGN SYSTEM IN THE DDG-51 CLASS SHIP DESIGN PROCESS by Randy E. Ayers, Patrick J. Callahan, and Ben Kassel.
1515: AUXILIARY SHIP HULL FORM DESIGN AND RESISTANCE PREDICTION by Siu C. Fung.
Hampton Room—Session 4B Moderator: Norman O. Hammer Terrence R. Applebee, Assistant 1430: A MODULARIZED SHIPBOARD HELICOPTER SUPPORT SYSTEM by Eugene J. Rodrick, David M.
Maurer, and Raymond B.
Gorchowski.
1515: NAVAL ENGINEERING ANALYSIS by Dale K. Pace and Richard J. Hunt.
SPECIAL SESSION Palladian Room Moderator: RAdm. H.L. Young, USN 1600: USS STARK LESSONS LEARNED—MEETING FUTURE SURVIVABILITY CHALLENGES by Capt. Raymond T. Michelini, USN.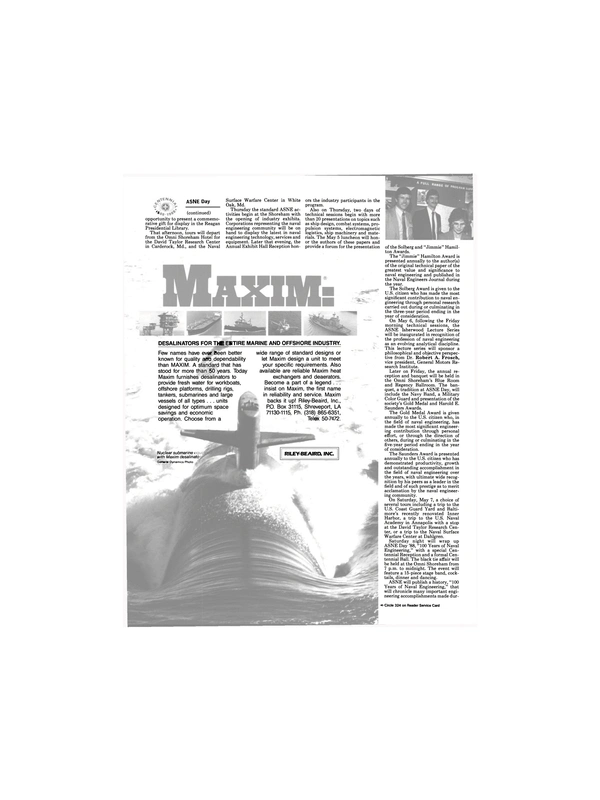 Read A.S.N.E. DAY '88 A CENTENNIAL CELEBRATION in Pdf, Flash or Html5 edition of April 1988 Maritime Reporter
Other stories from April 1988 issue
Content