A Chat with Capt. Eric Clarke
By Gregory R. Trauthwein, Editorial Director
Last month Captain Eric Clarke took the helm as managing director of Imtech Marine USA, Inc. (Houston). Maritime Professional was afforded the opportunity for an exclusive interview with Captain Clarke to garner his insights on the state of the industry at large, as well as Imtech's potential in the near term.

Captain Clarke, how did you come to a career in the maritime industry?
I fell in love with the maritime industry as a kid, as I fondly remember my dad taking me to see what were then largest supertankers in the world – at 500,000 DWT – during their dry docks in my home town of Marseilles. After sailing competitively during my youth, I decided to become a professional of the sea, pursuing both unlimited Captain and Chief Engineer licenses, and then sailing in these senior capacities. After about 10 years at sea, I made the jump ashore to help start Euronav, now part of the Tankers International pool. Prior to joining Imtech, I held the position of Vice President Americas at RightShip (a specialized company offering the commercial shipping industry a Ship Vetting Information System), building the company to be a leader in its field, performing more than 34,000 vets and more than 3,000 ship inspections.

Imtech has been a global driver of consolidation in recent years. For MarPro readers not intimately familiar with the company and its offering, can you describe it in one or two sentences?
Imtech Marine wants to be the best maritime service provider for its customers. We operate as a full-service provider and system integrator of tailor-made, innovative and sustainable technology solutions covering the whole ship. And most importantly, with our global service network we cover almost 100 locations along the major shipping routes. In 2012 we integrated the Radio Holland organization in the USA, its expertise in navigation and communication systems strengthening the global Imtech marine organization. Simply put, we are a strong international service provider and system integrator, with a varied range of innovative technology solutions, from engine room automation to propulsion and HVAC.

What, specifically, attracted you to the position of Managing Director, Imtech Marine USA?
Maritime is at the cornerstone of world trade, and Imtech, with its global network of strategically placed locations, is at the core of our industry. I found the opportunity to head the USA branch to be incredibly exciting, as helping our clients to operate their ships with minimum interruptions, maximum safety and utmost efficiency is exactly the type of mission for which I have a passion.
Additionally, I must admit that in my private life I am a bit of a geek, and some of the technology that Imtech Marine offers sits exactly at the intersection of my passion for the industry and my natural proclivity towards technical shipboard solutions. The idea of combining the two was just hard to resist.

Coming into the position, what are your immediate near term (next 12 months) and longer term (next 5 years) goals, and how do you plan to achieve them?
My short terms goals are to continue to sharpen the company and shape it into a very customer-centric organization. I want to continue to strengthen and grow our service network. I want the talented Imtech crew to be part of our clients' crew; I want them to be our clients' shore side support team, helping them to keep their ships running safely and efficiently.
I don't see us as repairing radars, as much as I see ourselves helping our clients keeping their ships running safely and efficiently, without port delays or worse, detentions. I am therefore refocusing the company's energies toward this immediate goal and client need.
Longer term, I want to ensure that we strengthen and grow the four cornerstones of Imtech Marine USA:

Services are core to what we do and will continue to do. Wherever their ships go in the USA a qualified local service team is never far away, and always ready to assist.
Service Projects: From delivering services, we naturally get asked to design, install and service NavComm equipment. By strengthening and growing our regional networks' ability to respond, we will continue to earn ship owners' trust with all their NavComm projects.
New builds and refits: We have the strength of a large company to support large projects, yet the regional knowledge and skills to deliver locally.
OTC: Providing a one-stop-shop for all "over-the-counter" equipment and parts, delivering what is needed, where it is needed, in a simple and cost-efficient manner.
From a more strategic level, I want Imtech Marine USA to be the ultimate specialist for maritime shipboard solutions: a one-stop-shop for all matters related to shipboard solutions.

Your former position at the well-respected RightShip group entailed its own share of technology innovation for the marine markets. And while that assignment involved the integration, analysis and dissemination of data / intel, your new job seems to be one of a system or hardware integrator. What will you take away from your past assignment that will be of value to Imtech and its customers?
While you are correct about what and how RightShip delivered its services, I believe my role there was, above all, to provide RightShip's clients a top quality service. There it was based on a worldwide ability to deliver vetting advice and inspections. In many ways this is not very different than what we do here at Imtech, and it is what I bring most with me from RightShip: The passion to help our clients through a large network of skilled people and worldwide expertise. RightShip was also at the top when it came to using technology to deliver a customer-centric experience, and I will also build from that experience to bring value to Imtech and our customers.

As MD of the Imtech Marine USA, you now lead a considerable team of system integrators for the marine industries. Where do you think you and Imtech will have the most impact in the coming years in this market?
Today we are still very much focused on the deep-sea merchant shipping market, which is approximately 50% of our revenues. Offshore and workboat are increasing in importance though and also ferries, which have been an important niche, and have held up better than the traditional commercial shipping.
In all these segments we operate as a Life Cycle Management partner for our customers, combining our experience as system integrator and services provider, as well as our capabilities in engineering, commissioning and project management. I see that we will make a large impact in this industry when it comes to ship automation, green technology and remote monitoring.

We note with interest that Imtech Marine Canada won its first subcontract for the engineering of an Offshore Fisheries Science Vessel. This will include responsibility for the ships' platform automation, electrical solutions, electric propulsion and heating, ventilation and air conditioning systems and has started the first engineering activities. Do you see the design of marine vessels evolving into a process where just one firm is responsible for all aspects of the vessel's equipment?
With regard to this Canadian project I can confidently say that this is a normal scope of supply for many of the projects that we execute globally. When looking at the second part of your question, about the direction of our industry, I see many players in our industry moving in the direction of delivering whole ship solutions. I do however see a large role in this industry for Imtech Marine: we operate supplier independent and are therefore flexible in delivering tailor-made whole ship solutions that fit customer and operational requirements.

At what point does the shipyard's responsibility and that of the OEM become yours – as the systems integrator? How will it all work when your goal of becoming "a supplier independent top three player in the global marine market." What does that phrase really mean?
During the early stages of ship design, we assume the responsibility for designing a solid technical infrastructure on board. We do not take on the shipyard's responsibility, but work hand and hand with them, as value-added partners. We concentrate on what we are good at, so that shipyards, in turn, can do the same. We complement each other and work in close partnerships. For example, we take responsibility for the technical infrastructure on board, the choice of technology installed and the full project management. We believe that being a good partner for the various stakeholders require some scale in this industry. That's why we want to be a top thee player in this market, not the biggest, but the best.

The world is in various stages emerging from the economic meltdown of 2008 / 09. As you look over your area of responsibility, by market niche, by geographic region (or both), where do you see the most promise for better business today?
I believe we are seeing slight tremors of a comeback in the market, at least in the U.S. Here, offshore construction and associated workboats will undoubtedly be an important part of our strategy and future, together with the offshore business as a whole. Further, as the U.S. continues to be an economic engine for the world, our ability to deliver services around the U.S. will be central to our growth, yet it is our part in the overall global Imtech Marine network that gives me the most optimism for better business. There is real value in a one-stop-shop, one that can assist your vessels all around the world.
As the world becomes ever more connected, our solutions delivering Internet access, VoIP services, and remote monitoring of shipboard installations are the way of the future. Ships – like your car – have become increasing complicated, and – like your car – require more and more complex maintenance and servicing solutions. Yet ships can afford less and less time in port. Today problems are diagnosed and solved by plugging computers into networks to read error codes, reset them or run maintenance software and code from expert technicians. I see our ability to do so remotely as part of our common maritime future.

(As published in the 3Q edition of Maritime Professional - www.maritimeprofessional.com)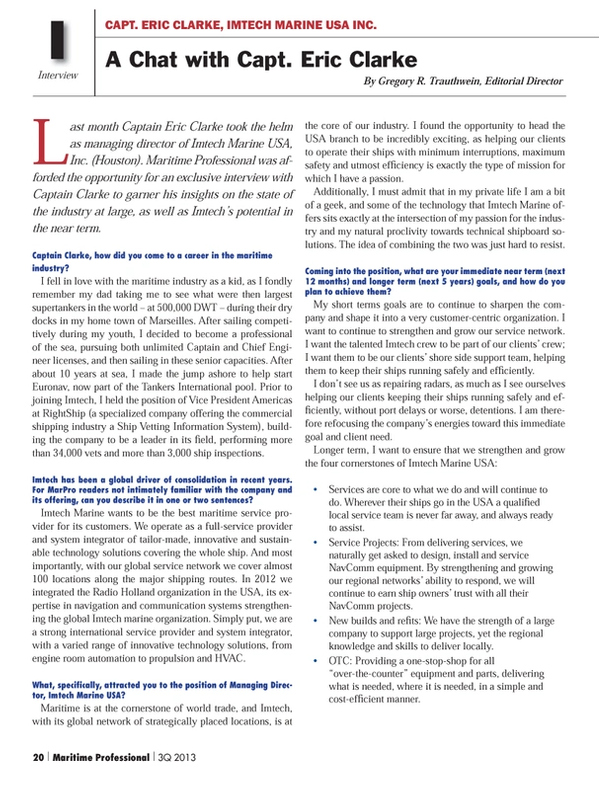 Read A Chat with Capt. Eric Clarke in Pdf, Flash or Html5 edition of Q3 2013 Maritime Logistics Professional
Other stories from Q3 2013 issue
Content