Big City Fireboats
By Tom Ewing
On March 3, the Coast Guard published a notice that Martin Midstream Partners (MMP), a petrochemical transport and storage company, was seeking approval to modify terminal operations in Beaumont, Texas, along the Sabine-Neches Waterway. If approved, MMP would expand its liquefied hazardous gas (LHG) operations, both in volume and products. Instead of just handling ammonia the change would allow shipments of butane, propane, ethane, ethylene and propylene.
Critically, MMP's expansion would increase LHG vessel transit from 24 ships to as many as 350 per year. That's more than a 14-fold increase, for just one company. The Sabine-Neches is additionally expected to become the largest liquefied natural gas (LNG) exporter in the U.S. as American energy exports muscle up for delivery to worldwide markets.
Obviously, expansion at this scale raises questions about port safety and emergency response. Coast Guard Captains of the Port (COTP) are required to develop safety contingency plans, addressing issues from fires to hazardous materials spills. For Marine Safety Unit Port Arthur, the "Southeast Texas And Southwest Louisiana Area Contingency Plan" is a 1,000+ page document, last updated in July 2019, filled with information about municipal fire departments, hazmat first responders, staging areas and emergency response equipment.
Surprisingly, there is just one fireboat mentioned in the entire regional plan. And other than its location, in the Port of Lake Charles, the fireboat – its firefighting capabilities, for example – isn't mentioned again. The plan does tell that most local fire departments have limited response capabilities for shipboard fires, small watercraft for search and rescue and spill response.
The plan explains that "offshore ship fires are a rescue priority. Land-based fire departments will have involvement at their chief's discretion". [The Coast Guard does not take the lead in fighting port fires nor in hazmat response; rather, it defers to local fire departments or to private sector hazmat contractors.]
In 2003, the Department of Homeland Security issued a "Special Report: Fireboats: Then and Now." The Report has not been updated but a person familiar with the research said the report reflects trends and factors, still current today, about how or whether fireboats can fit within a fire department's fleet.
One important trend in the report: big city fire departments had scaled back on fireboats. Some boats were scrapped altogether or mothballed or placed in reserve. Fireboat costs could no longer be justified against declines in emergency runs. In many ways this was expected. After all, waterfronts were no longer dominated by old fire-prone wooden wharfs and warehouses. Absent that threat, land-based equipment was increasingly judged more valuable than fireboats.
Another trend: ships themselves, and shipping operations, had become much safer. The Oil Pollution Act of 1990, for example, requires ships entering U.S. ports to supply proof of contracts for spill response and marine firefighting.
DHS described a shifting demand for fireboats. Local officials wanted smaller boats with flexible capacities, firefighting and hazmat response, for example.
In Marine News' December 2019 issue, Joe Keefe described how this shift in the fireboat market has continued and grown. The Fire Department in Rochester, N.Y., for example, after five years of analysis, contracted for a vessel to patrol a range of locales, from a Great Lakes shipping channel to private marinas to industrial sites. Similarly, fire services in Rabun County, Ga., purchased a vessel to patrol an 835-acre reservoir with 25 miles of shoreline. Again, versatile vessels to take on a range of duties.
Importantly, though, the DHS report also described two then-emerging trends in American seaports. One was the huge increase in mega-containerships and the port infrastructure for those vessels. The second pertained to hazardous materials, from chemical cargoes to energy products newly carried as cargo, such as LNG or LHG.
DHS' report raises critical questions, particularly pressing now, and particularly relevant for decisions about fireboats. How should a port's safety analysis change to adequately measure and describe risks from LNG and LHG tankers and 1,200-foot containerships? DHS noted that on the one hand containers themselves help reduce fire risks. On the other hand, the report cites an estimate that "nearly 50% of all containers hold some hazardous material," and there have been several major fires on board containerships over the last few years – some fatal. How should these developments influence a fireboat's cost-benefit assessment? Maybe a response vessel built for a vacation marina isn't the right one to approach an emergency on a tanker barge filled with vinyl chloride.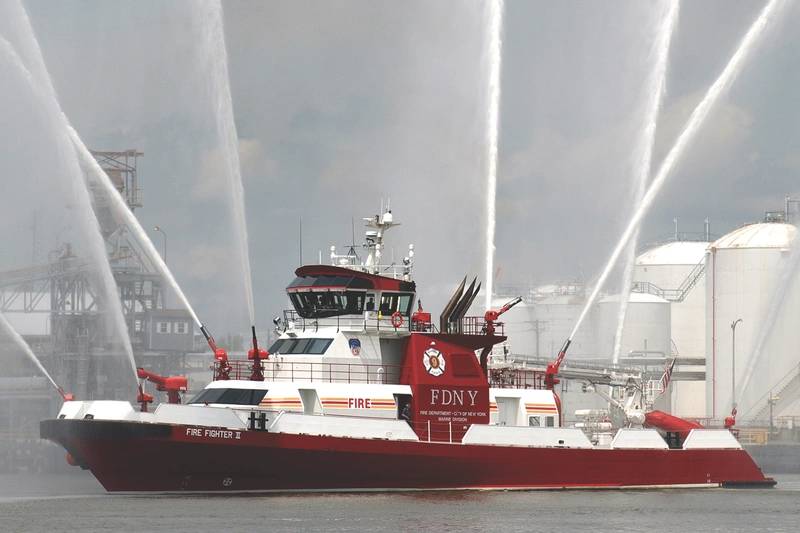 (Photo: Robert Allan Ltd)

Robert Allan LTD, based in Vancouver, B.C., is a naval design firm that has worked on some of the world's most storied fireboats, including FDNY's paired vessels, the Fireboat 343 and its sister fireboat the Fire Fighter II, both placed in service in 2010. At 140 feet, with CBRN capabilities (Chemical, Biological, Radiological, and Nuclear), a response speed of over 17 knots, and a total pumping capacity in excess of 50,000 GPM these fireboats are among the largest in the world. Each cost $27 million, covered, to a large extent, by Homeland Security grants. Each is a stand-alone battle station at the tip of the spear for confronting maritime fires and disasters.
Derek Noon, a Principal with Robert Allan, was project manager for FDNY's 343. Noon was asked about how or whether emerging port safety issues are affecting new fireboat designs and capabilities. Central to this question, of course, is that fireboats don't just roll off a production line. Each is customized to reflect a port's most likely hazards. In Chicago, for example, fireboats have ice-breaking capabilities and low draft to pass under bridges. In LA, fire officials need the ability to pump water to shoreside fire mains in case of an earthquake.
In New York, the decks of the 343 and the Fire Fighter II are at a level even with the decks of the Staten Island Ferry. That's deliberate.
Noon said the most significant change in fireboats is demand for CBRN detection and protection systems, which he called "a direct result of an increased terrorist threat and the vulnerabilities of ports." Newer boats also have infrared and night vision technologies.
Noon said, "Each fireboat is custom designed to address the mission and capability requirements of the specific port. The market does not support building fireboats for stock. Each is a custom build."
Frank Simpson is Chief of Marine Operations for FDNY. New York City has almost 600 miles of coastline. The Chief was asked about new and emerging fire and hazmat issues.
Simpson mentioned two big concerns – hazardous material spills and LNG. New York has a hazmat response program with a specific maritime, waterway component. Regarding LNG, Simpson said "there is no doubt it is coming into this port eventually." He said FDNY is in discussions with other cities' fire departments regarding how best to plan for possible LNG emergencies.
Simpson said FDNY fireboats will expand their storage and ability to use Purple K, a dry-chemical agent effective against LNG fires. Simpson said firefighters are training now for Purple K use, including using cranes to transfer supplies between vessels. "We're looking to expand LNG training," Simpson said. "We need to know its properties and what works and doesn't work in a maritime crisis." As platforms, Simpson said the 343 and FFII will be mission capable for years to come.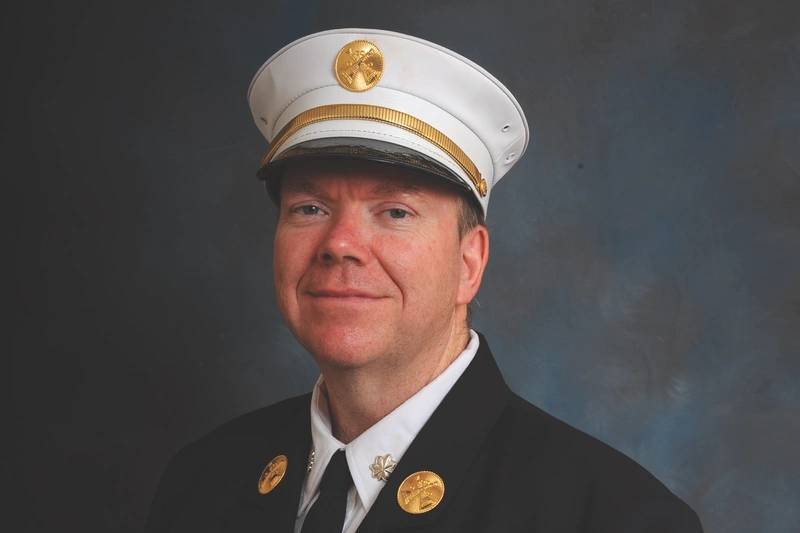 "We're looking to expand LNG training . . . We need to know its properties and what works and doesn't work in a maritime crisis." – Frank Simpson, Chief of Marine Operations, FDNY (Credit: FDNY)

In Tacoma, Wash., the Tacoma Fire Department has three fireboats, although one is kept in reserve. TFD's jurisdiction includes over 12 square miles of Commencement Bay. LNG is an emerging issue in Tacoma because Puget Sound Energy is building an LNG facility to fuel ships transiting Commencement Bay and the Puget Sound. This will be a kind of marine "filling station," expected to be operational in 2021, allowing vessels to switch from diesel bunker fuel to clean natural gas.
Project permitting requires PSE to have a fire station nearby. TFD has since developed plans to open Station 5 (paid for by PSE) near the new LNG facility. Station 5 will not include a fireboat. LNG has been safely handled by ships and logistics experts for decades. An LNG "filling station," however, for ocean-going ships is not really part of that operational history. Is this the kind of new, hazardous materials activity that should force a re-look at fireboat policies?
Tom Guldner is a retired FDNY firefighter who, since 1999, runs a company called Marine Firefighting, Inc. In addition to training, e.g., teaching tugboat crews and land-based firefighters about dealing with LNG emergencies, his company also undertakes port risk assessments to determine if current dangers in a port can be handled with existing resources.
For LNG risks, it's Guldner's view that "any major port should have at least one fireboat and larger ports should have multiple boats to insure a rapid response anywhere within the port."
Guldner was asked to comment about the expense of big fireboats and specialized crews. In response he cited a National Fire Protection Association standard that specifically references ship fires and legal consequences. Here's NFPA's quote:
"An understanding of the dangers inherent in marine firefighting should include an understanding of the consequences of the failure to provide a standard of training, planning, response, and action equivalent to that which a department provides on the land-based portions of its response area."
Guldner said that vessel owners' contracts for spill response and marine firefighting is indeed important for maritime and port safety. He added, though, that in certain situations a private sector response "could take three to four hours."
A fire on a ship in the water a mile distant from a commercial or industrial shoreline presents one level of risk.
A fire on a pier where a ship is taking on LNG fuel presents far different levels of risks, a scenario that would seem to almost forcefully reset questions about port safety and fireboats. These risks aren't fading. For many, they're just starting.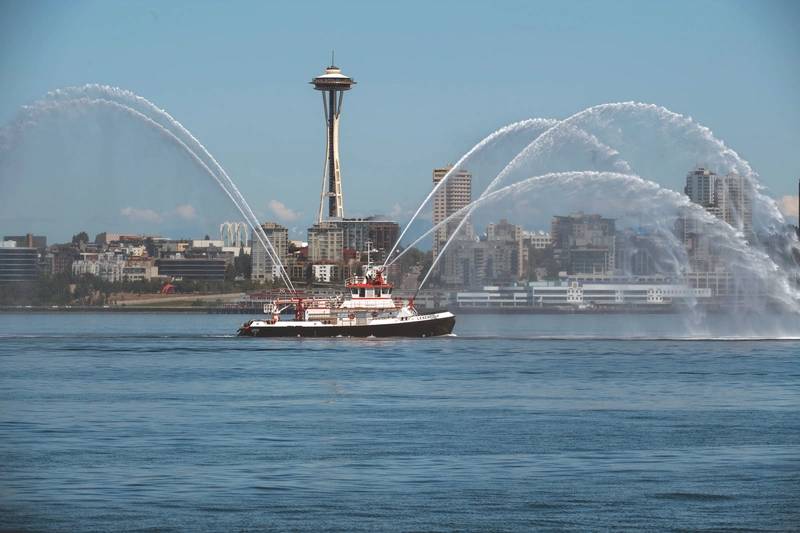 (Credit: Victoria Foley, U.S. Navy)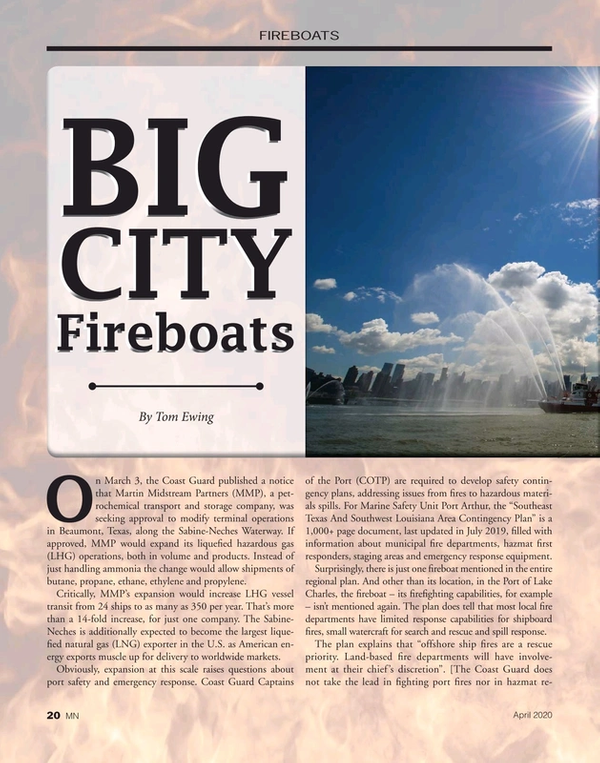 Read Big City Fireboats in Pdf, Flash or Html5 edition of April 2020 Marine News
Other stories from April 2020 issue
Content