Insuring the Marine Industry's Risky Work Environment
By Stephen Clark and Mike Perrotti
From high-traffic ports to bustling boatyards, and busy shipyards to expanding marinas, marine professionals operate in a challenging environment. They work on land, on or around water, and are exposed to all kinds of weather. And the challenges won't ease up any time soon.

Our nation's ports continue to expand as trade surges. Add in increased commercial vessel traffic and recreational boating, and it's clear that marine businesses have to be in shipshape condition. It means that the marine insurance industry has to stay on its toes too, making sure that its products keep these businesses afloat.

Today's Working Environment
Take a look around today's marine environment. Ships are getting bigger and more abundant. The average size of container vessels navigating US ports has grown considerably over the past five years. According to data from BlueWater Reporting, as of August 2018 the average containership size transiting the Panama Canal was 6,846 TEUs, up 5.4 percent from a year ago, and up 48.6 percent from three years earlier. Cargo moving through America's ports has increased over the last two decades, with annual growth between 3-5%.
To make room, many ports are making improvements and accommodations to provide appropriate water draft, berth size, terminal space, suitable size dock equipment and rail connections. The Port of New York and New Jersey had to raise the Bayonne Bridge between New Jersey and Staten Island to increase the clearance capacity. The Port of Virginia is widening its shipping channels and deepening them to 55 feet. The Georgia Ports Authority has begun the Savannah Harbor Expansion Project. This will deepen the 18.5 mile outer harbor to 49 feet at mean low water and the Savannah River channel to 47 feet. The port will more efficiently serve larger vessels due to the Panama Canal's expansion.
Insuring the Maritime Hustle and Bustle
Situational awareness has always been a key component in navigating any vessel. But, given the increased traffic and activity in and around our waterways, it's an even bigger component of any marine business' risk management strategy.
Expansion activities create many exposures for maritime operations. For the marine insurance industry, the challenge is to develop products that address marine construction's unique risks. We need to make it as easy as possible for businesses to buy appropriate coverage, and avoid gaps in their coverage that could expose them to out-of-pocket financial losses.

Taking on Builder's Risk
Builder's risk is a key coverage for marine operations. As America's vessel fleet ages and retires, Boat Builder's Risk can insure new vessels under construction and during trial runs. Vessels constantly undergo repair and maintenance, for which Ship Repairers Legal Liability insurance applies.
The inland marine insurance industry provides Builder's Risk coverage for a wide range of buyers including general contractors, owners, developers, and specialty trade contractors. Some carriers offer very inclusive Builder's Risk and Installations coverage that can be further tailored with endorsements. Endorsements allow businesses to adapt insurance to their project needs, including:
Green Coverage
Contingent and Difference in Conditions
Rigger's Liability
Existing Buildings or Structures
Soft Costs, Business Income and Extra Expense
Permission to Occupy
Equipment Breakdown
Flood, Earthquake and Volcanic Eruption

Available coverage also includes protection from variable costs that are often overlooked, such as an increase in construction costs, site preparation, extra and expediting expense, contract penalty, rewards, reimbursement for returning stolen property, loss adjustment expense, ordinance or law, fire department service charges or expenses related to debris removal, pollution cleanup, among others.

Contractor Coverage Challenges
While Builder's Risk protects projects under construction, those businesses actually carrying out the construction work have their own unique risks to address. Marine contractors share the waterways with a growing volume of vessels, but their vessels are restricted in navigation, often working at a fixed location (such as a bridge) while using specialized vessels and equipment. They often work around the clock, which increases their collision exposures significantly. Conditions can change quickly, such as when adverse weather storms in.
Given the hazardous nature of marine contracting work, it's essential to have comprehensive insurance protection that directly addresses their diverse, day-to-day exposures. Contractors' insurance often consists of such coverages as:
Marine General Liability includes coverage for products and operations liability for work performed from watercraft.
Marine Contractors' Liability provides coverage for property damage to marine structures.
Commercial Hull and Protection & Indemnity (P&I) protect vessel owners against physical damage to the ship and legal liability.
Bumbershoot (umbrella) provides excess liability coverage for companies with major marine exposures. Such policies cover both non-marine and maritime liability exposures—that is, protection and indemnity, general average, collision, general liability hazards, among others.
Contractor's Equipment coverage provides protection for equipment including borrowed, leased or rented equipment, contract penalty, employee tools and work clothing.
Property includes insurance for buildings, contents, and business interruption.
Auto can also be packaged with the marine contractors program.

Safeguarding Workboats
Workboats are an essential part of marine operations, especially in today's busy maritime environment. They represent many different types and sizes of vessels that are used for a wide range of tasks. These include maintaining waterways, assisting with launches at a marina, performing dock inspections, and carrying out a host of other duties. Given increased activities everywhere from marinas to ports, their workloads are increasing and consequently, so are their risk exposures.
While these boats may be smaller in stature, they still have significant exposures, including the risk of third party liability or hull damage from an accident or natural catastrophe. Fortunately, workboat owners can purchase insurance on a standalone basis or as part of an integrated offering including the coverages listed above. Standalone Workboat Coverage typically includes Hull coverage, Protection and Indemnity (P&I), physical loss or damage to equipment, trailers, sails, machinery, as well as crew coverage, by request.

Wrapping Up
Marine businesses are working under very challenging conditions. The good news is that these circumstances are present because of the growing need for marine services – whether it's shipping more containers or building new infrastructure. There is a lot of hustle, bustle and business being conducted.
The marine insurance industry plays a vital role in keeping trade and infrastructure afloat. It's taken this role very seriously, continuously developing comprehensive and innovative insurance coverages designed for specific marine business activities. Today's marine and inland marine insurance coverages are packaged together to streamline the insurance buying process, as well as to eliminate possible conflicts or gaps in coverage, all with the intent of keeping the marine industry's profits above water.
Stephen Clark is the National Hull & Liabilities Practice Leader for AXA XL's North America Marine team. Mike Perrotti is the Inland Marine Practice Leader for AXA XL's North America Marine team.
This article first appeared in the February print edition of MarineNews magazine.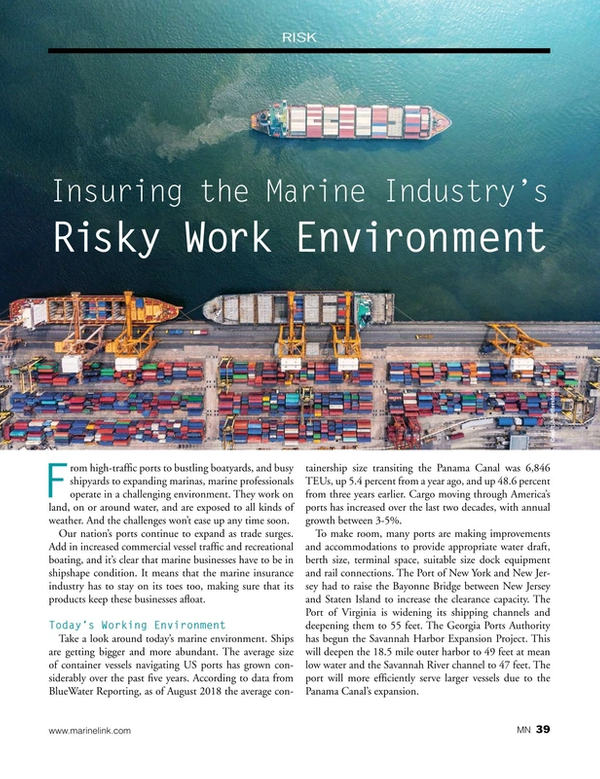 Read Insuring the Marine Industry's Risky Work Environment in Pdf, Flash or Html5 edition of February 2019 Marine News
Other stories from February 2019 issue
Content