INSIGHTS:
William P. Doyle, CEO & Executive Director of the Dredging Contractors of America (DCA).

William P. Doyle is the CEO & Executive Director of the Dredging Contractors of America (DCA). Twice a U.S. Senate confirmed Presidential appointee to the U.S. Federal Maritime Commission (FMC), Doyle has, over the course of a long and celebrated career, successfully worn many hats. Prior to his FMC appointment, Mr. Doyle served on cabinet and executive level boards and committees under both the Obama and George W. Bush Administrations. Before that, he served as an officer in the U.S. Merchant Marine as a U.S. Coast Guard licensed marine engineer aboard numerous classes of vessels.
During his tenure at FMC, he participates in discussions on certain bilateral shipping matters with other countries including Canada, Panama, Greece, Netherlands and other countries in the European Union. He represented the FMC and co-chaired the U.S.-China Bilateral Maritime Consultations where he met with officials from the People's Republic of China regarding maritime shipping matters such as tax policies affecting U.S. interests in the U.S.-China trade. Closer to home, Doyle has worked to address port congestion matters, ocean carrier alliances, industry consolidation and helping to find solutions that expedite the movement of cargo through the transportation system.
A graduate of the Massachusetts Maritime Academy with a BS in Marine Engineering, he is also an attorney and a graduate of the Widener University Commonwealth School of Law. Doyle has, at one or another worked from all sides – and at all levels – of the maritime equation, and understands what it takes to make things happen. Hence, his recent appointment as DCA's CEO and Executive Director isn't surprising. Nor will anyone be surprised by what he accomplishes in his new role. Listen in this month as he wades into the complicated, but critically important world of domestic dredging.

You've been at the helm of the Dredging Contactors of America (DCA) for a little over one year. Looking back, give us your sense of the biggest victory for domestic dredgers during 2018.
By far, 2018, has been the most consequential and successful year in my private sector career. I've been in Washington, DC since January of 2002, and on the private sector side, this past year has been the best year dredging has seen in generations. Congress and the Administration have certainly focused on infrastructure and dredging has been the center-point. We now know that the Panama Canal expansion is real. More containerized cargo is transiting the Canal from Asia to ports on the East and Gulf Coasts of the United States than ever before – and the volumes will continue to increase moving forward. With that, more liquids and natural gas products are being exported from the United States to Asia, and more in total than ever before.
Two explanations make it all possible with one critical component making it all happen: First, the Panama Canal expansion opened in 2016 – now vessels nearly two and one half the size of the ships that previously transited the Canal, are now able to move through the Canal in both directions. Secondly, individual states in America are helping to fund dredging activity and the federal government (Congress) is making sure our ports are big-ship ready with important funding legislation. The critical component is dredging – notwithstanding the expansion in Panama, the ships cannot call on the East and Gulf coasts but for dredging.
Congress, in 2018 alone, appropriated more than $2 Billion for dredging activities. Although infrastructure improvements for the United States was not addressed in a single bill, much was taken care of in several individual and wipe sweeping legislative measures enacted into law including – the Minibus - Energy & Water, Military Construction, Veterans Affairs and Legislative Branch, 2017 Disaster Relief Supplemental Appropriations Bill, Bipartisan Budget Omnibus Act and the FAA Authorization Bill.

What one thing didn't go exactly as planned for U.S. dredgers and marine construction stakeholders? And, what can we do about that?
It's not what we didn't do; it's what we did do in 2018. My companies are engaged. I disliked it when lobbyists and lawyers would come into my office when I was a Commissioner at the FMC and speak about "what was good" and "what needed to be done." I made it known to them early on that they were out of touch and I wanted to hear from the principals of the actual companies—and that then became the norm at the FMC while I was there. It's one thing to argue a position from your perch in Washington and try to jam something through. It's quite another to get the actual operational stakeholders involved with the process so they can explain the importance of what they are trying to do. It meant more, it was real, and we usually found a common ground different from what was originally lobbied. So, I took that experience with me to the dredging sector. Our success this past year in the dredging industry wasn't because of me, it was because of my companies being engaged. I can sit there and talk all day on Capitol Hill to decision makers, but that will only get you so far. We came up with a plan at the Dredging Contractors of America (DCA) – and that plan included the CEOs, principals and operations level folks from the actual DCA companies visiting DC, meeting with their federal and state representatives locally, and talking with the Governors' offices – to explain dredging. My job was easy after that; I just let my companies speak. These dredging companies lay it all on the line with risk, the investment of sweat equity, and, ultimately, owning what comes from all of that effort. And they did very well in 2018 explaining their importance to our national and local security and the economic benefits. I'm proud of my DCA companies.

Some shipbuilding sectors have, over the past 12 months, been red hot. Others, not so much. The newbuild ferry sector, for example, has been very robust. That said; how would you characterize the dredging sector in this regard?
The American dredging industry is amid a $1.5 billion dredging fleet expansion. And, I've encouraged my stakeholder companies to not be shy, but rather talk openly about their investment decisions. New investments include four large cutter suction dredgers, two large hopper dredges and approximately 50 barges built in shipyards across the United States, including Eastern Shipbuilding in Panama City, FL, Conrad Shipyard in Morgan City, LA, and Halimar Shipyard, also in Morgan City. In addition, Callan Marine is constructing a massive 32-inch hydraulic cutter suction dredge at C&C Marine Shipyard in Belle Chasse, LA. Dutra Group is currently building two 6,000 cubic yard hydraulic dump scows at Corn Island Shipyard in Grandview, IN. Separately, Weeks Marine is building a 30-inch cutter head suction dredge at C&C Marine Shipyard. It doesn't end there. Manson Construction has commenced the design phase on a large-scale, self-propelled Glenn Edwards Class hopper dredge, and Cashman Dredging is procuring long-lead time equipment for the construction of two 6,000 cubic yard hopper dredges.

Looking back – and ahead – what's the biggest threat to the Jones Act today, and in particular, the dredging sector?
Lack of knowledge. Interviews like this help. CEO's and Executives must not be afraid of advocating publicly for the Jones Act. They must. We must continue to educate the public. The U.S.-flag dredging industry is part of the more than 40,000 American vessels built in American shipyards, staffed by American mariners, and owned by American companies that operate 24/7/365 in our domestic waters. The US-flag maritime industry sustains nearly 650,000 American jobs and generates $29 billion in labor compensation, $11 billion in taxes, and more than $100 billion in annual economic output.

Give us your sense of the state of the U.S. Flag dredging sector today. Is it healthy? Is it adequate for the needs of the nation and its commercial maritime stakeholders?
We're winners. We meet every need. Look at our investment—it's a supply, demand and ready reserve industry. Domestic dredging companies are investing in new vessels because of demand and because the nation needs our private sector dredges in times of emergency. We predominately work as partners with the U.S. Army Corps of Engineers (USACE). USACE is our customer. When we build dredging capacity to add the fleet, that fleet works for the Army Corps – Our fleet, therefore, is USACE's fleet.

When talking about dredging, the first word that probably does not come into your mind is "high Tech." But there have been some developments in the dredging sector about equipment and techniques. Tell me about one or two.
Digitalization is here. The hopper dredges, cutter head suction dredges, tugs, dump scows, survey boats – you name it – they are all equipped with digital technology or moving quickly in that direction. Cashman Dredging has designed and implemented such technology – the Scow Geofence System – to prevent inadvertent placement of dredge material in non-authorized ocean disposal sites. The system itself is comprised of a small computer and a GPS receiver that is connected to the scow controls. The Scow Geofence System utilizes a relay that connects it to the scow's programmable logic controller (PLC). The PLC controls the communication, engine start and stop and the sequencing of the hydraulics for the split hull scow. But, that's just one of many initiatives underway on board U.S. flag dredging equipment.

The partial government shutdown is worrisome in terms of what work is left idle while it is ongoing. Leaving the politics of the matter completely to one side, what's the short- and long-term impact on commercial dredgers – if any – and of course, the mission of the U.S. Army Corps of Engineers (USACE)?
The Corps is funded – they are not part of the shutdown, per se. We in the dredging sector along with a whole host of groups in the construction, engineering, ports and mechanical industries worked all year with Congress to help make sure the Corps was funded on time in 2018-19.

Last year, you said that a dredging backlog exists around the country that additional funding could help resolve. As a starter, FY18 funding was better than FY17. What does the coming year look like in that regard?
We are encouraged, engaged, and very busy. And we're working every day with the Army Corps on scheduling, planning and the dredging windows in order to complete projects.

What are some tasks left over from last year that you would like to accomplish soon?
We're going to look at dredging windows and beneficial use of dredge material. The Corps has recently announced a series of authorized ten 'beneficial use of dredge material' projects around the country. Those projects are designed to use material dredged from one site and then utilize it for coastal restoration rather than wasting it through ocean dumping or some other type of disposal. It's good policy; now more widely accepted in the environmental community. Therefore, we'll push for more of this in the coming years. On the dredging window side, public officials want their beaches built. The adage used to be "don't dredge during the summer months, it's bad for tourism, all dredging needs to be concluded by Memorial Day." That's not true anymore. I witnessed it. I was privy to a couple of dredging projects this past summer in the Mid-Atlantic. And, I can tell you those counties want dredging and beach nourishment regardless of the season. I saw residents, public officials and tourists visiting beach nourishment sites taking "selfies" from their smart phones with the dredge vessel in the backdrop and the pipeline pumping sand ashore. In short, I loved every minute of it. We're making dredging great again!
This article first appeared in the February 2019 print edition of MarineNews magazine.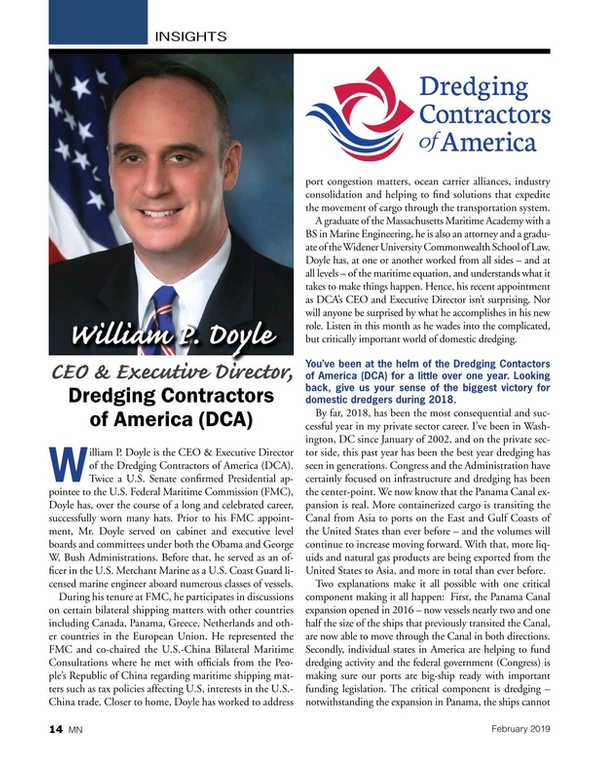 Read INSIGHTS: in Pdf, Flash or Html5 edition of February 2019 Marine News
Other stories from February 2019 issue
Content