Insights: Chris Charman Chief Executive, International Marine Contractors Association
Marine News
Chris Charman took over as Chief Executive of the International Marine Contractors Association (IMCA) in December of last year. IMCA's Chief Executive leads the IMCA secretariat and is responsible for delivering the association's extensive global work program. Charman, perhaps not widely known to our North American readership, nevertheless brings impressive qualifications to this important advocacy group for the international offshore, marine and underwater engineering sectors. Representing nearly 900 members in more than 60 countries, IMCA has four technical divisions, covering marine/specialist vessel operations, offshore diving, hydrographic survey and remote systems and ROVs, plus geographic sections for the Asia-Pacific, Central and North America, Europe and Africa, Middle East and India and South America regions. As well as a core focus on safety, the environment, competence and training, IMCA seeks to promote its members' common interests to resolve industry-wide issues and to provide an authoritative voice for its members.
Chris Charman's working life began in the Royal Navy officer. Embracing a key goal for IMCA members of managing risk; Charman is a Fellow of the Institute of Risk Management and an Associate member of both the Chartered Institute of Insurers and Chartered Institute of Arbitrators. After leaving the Navy, he worked as a loss adjuster in London, Hong Kong, Papua New Guinea and Indonesia, travelling through most of the Asia Pacific region, dealing with the impacts of poor or failed risk management. Armed with this knowledge, he moved to the front end of the process, dealing with risk management and risk financing regionally for CURM in Singapore, returning to the U.K. as Managing Director in 1999 and overseeing the acquisition of the business by Thomas Miller. He has also served as the Interim Head of the Operational Risk Consortium at the Association of British Insurers. Charman's passion for managing risk should be of special interest to offshore companies everywhere. As such, his words this month are especially appropriate in an edition focused largely on OSVs.

You are the new IMCA Chief Executive, effective December of last year. Tell our readers about IMCA, what it does and why.
IMCA represents one of the most important industry sectors on the planet, providing risk management guidelines, practices, (and even certification) to those who work in offshore construction. Without the work of the members, no oil or gas or electricity would flow from offshore. IMCA represents the members' interests with governments, regulatory bodies and clients worldwide. We work with our members in a collegiate and inclusive style to deliver safer working practices (constantly wishing to raise standards), to pool knowledge and learn from each other in order to reduce risk, losses and damage to the environment.

If you had to accomplish just one thing during your tenure at the top of IMCA, what would that be? Why? And, is it possible?
To raise the global and public profile of the members, their work, the way they work and their focus on "doing the right thing" outside the energy sector. To give them the recognition they deserve as a major and vital component of the economy of the planet.
Risk is everywhere on the waterfront. For IMCA members, however, tell us what the riskiest issue facing them today is and why.
This involves a lack of preparedness, an unwillingness to embrace change or to take the risks necessary for the industry to evolve safely for the benefit of all.

Define "risk management" as you know it. How do you go about it? Is it the same for every organization?
There is no single simple definition of risk management. The one I like the most is "Risk management is the process which aims to help organizations understand, evaluate and take action on all the risks with a view to increasing the probability of their success, and reducing the likelihood of failure." Risk management is relevant to all organizations whether they are in the public or private sector, whether they are large or small. It should form part of the culture of the organization, with an effective policy and program led by top management with clear responsibilities laid down for every manager and employee to be involved in the management of risk. It supports accountability, performance measurement and reward - thus promoting efficiency at all levels. Risk management differs for all organizations, but people are the common denominator. Two different vessels inside the same fleet can have two completely different risk cultures. This is driven solely by the attitudes of the different crews. Because of the complexity of the subject, I recommend The Institute of Risk Management who have compiled some benchmark (and free) guidelines, including The Risk Management Standard; www.theirm.org/publications/PUstandard.html and an insight to Risk Culture; www.theirm.org/RiskCulture.html.

IMCA caters to a largely international audience, while OMSA—the American-based Offshore Marine Services Association—represents American interests in roughly the same business domain. Where do you share synergy with OMSA and on what issues do you diverge? Why?
Both OMSA and ourselves share many common goals and are particularly aligned when it comes to safety standards and environmental operations. We too seek to promote and enhance the position and status of our members with governments and regulatory bodies worldwide. Obviously the Jones Act deals our members different cards, though some of them have two sets of those cards, in the form of U.S. and foreign flagged vessels. Having recently met with Jim Adams and his team, we have agreed to actively work on closer ties where possible - to solve problems, not to dig ourselves into entrenched positions which do not serve the interests of our clients in the Gulf.

If IMCA exists "to help its contractor members deliver safe and efficient projects supported by other members up and down the supply chain," give us some measureable metrics and benchmarks that you have helped them achieve in the recent past.
Our members made a conscious decision to set the most challenging goals possible with the "holy grail" being "zero incidents." The objective is to become the best we can be at what we do and motivate a process of continuous improvement. We have come a very long way from our diving origins 30 years ago, and safety statistics have improved manifold since then. The accompanying charts and tables show both improvements achieved and the tasks which still remain to be accomplished.

Does industry as a whole have a good safety record? Are IMCA members' loss metrics any better than non-members? If so, what's the gap?
In an environment where the goal is "zero incidents," any accident is treated seriously, analyzed and invariably turned to use as a learning and loss prevention tool. As a result, we tend to look at losses empirically, rather than as "good" or "bad." Contractors are beholden to operate under the terms and conditions of the contracts with the clients, which often demand IMCA membership and behaviors as a prerequisite to tender. Cultures, geography and the nature of the task—for example inshore versus offshore—mean that (even if we did collect non-member statistics) direct comparisons would have limited value. It is the clients who drive choice, as it is their product, brand and reputation that is put at risk whenever they engage a contractor. They determine the most appropriate providers of the services they need. This in turn is driven by the factors above.

Where do IMCA members need the most help in improving? How will you help them to accomplish that?
There are two answers to this question; one is strategic and the other operational. The first need is to improve the global profiling and "voice" identified under question two above. To achieve this, we are collating as much statistical data as we can about the members and commencing a program to engage with the external world at the highest level possible. For example, early indicators are that members collectively turn over in excess of $150 billion annually, and employ more than 250,000 staff (and voters) across the world. Their contributions to the global economy in tax and spending are critical to many countries, but these same contributions are not properly recognized, valued or rewarded. At an operational level, members amass considerable amounts of loss data on events that happen inside their businesses, but despite their best intentions, these are not always reported persistently and consistently. I have a vision of an anonymized operational risk data base which collects incident data—including "near misses"—for analysis, review and the benefit of all.

Tell us one thing that a prospective business contemplating joining IMCA should know but probably doesn't? And, why is that important?
If you join IMCA to contribute, you will receive more than you give. We are a strong and friendly family, mostly working on the cutting edge of an exciting and critical industry. There is no greater pool of collective knowledge of our sector available on the planet. We constantly share knowledge to add depth to that pool and constantly improve the way we work and the quality of the services we deliver.
(As published in the April 2013 edition of Marine News - www.marinelink.com)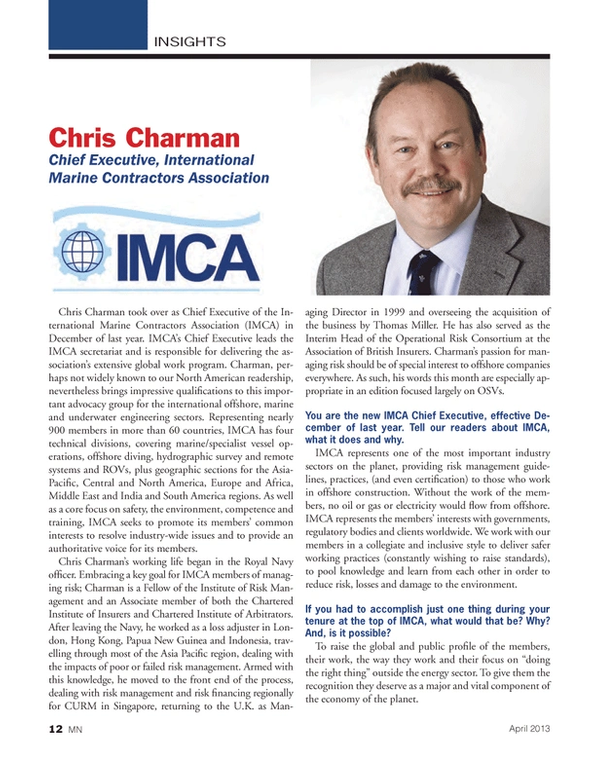 Read Insights: Chris Charman Chief Executive, International Marine Contractors Association in Pdf, Flash or Html5 edition of April 2013 Marine News
Other stories from April 2013 issue
Content